Google Babble may actually be called Babel and be cross-platform
4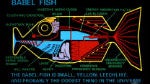 We've been wondering about this since the first rumors surfaced about
Google's unified messaging system
. The name was first reported to be "Babble" as in the word that means "to talk rapidly and continuously in a foolish, excited, or incomprehensible way", but there was always the possibility that someone only heard the name and chose the wrong word, and it was actually called "Babel".
This name would also make sense, because it is a word that means "a scene of noisy confusion", as well as having the direct connection to the biblical Tower of Babel, which is the story of how God supposedly created all of the different languages in the world to confuse people so they couldn't get together and build the tower to heaven. And, knowing Google's geek nature, it would also connect to the babel fish, which was the universal translator from
The Hitchhiker's Guide to the Galaxy
. Babelfish is also Yahoo's online translator that has now come to power Bing Translate.
If Google did choose this name for the product, we kind of wonder if that means Google is planning to merge Google Translate with the messaging to offer real-time translations in chat
.
In addition to the possible clarification of the name, Droid Life is also reporting that Google Babel is likely to be cross-platform (as we expected). This one seemed like a no brainer, when we first heard about the app, but it wouldn't have surprised us to see it stick with web and Android to start. But, the new rumor says that in addition to the web (aka Gmail, G+, and Chrome OS), and Android, the app will also be coming to iOS.
Supposedly, the service is even being tested internally on those platforms
.
As far as what the service will do, there isn't a lot of new info on that. We expected it to sync across devices, be a conversation view, allow for group messaging, and sending pictures, because those are all features of existing Google messaging products. The only new piece is that the app will reportedly offer "Improved notifications across devices", but it's unclear what that means.