Gold Apple iPhone 5s known as Kardashian phone in Cupertino
19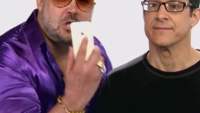 When we first showed you pictures of some of the parts used in the gold
Apple iPhone 5s
,
we called them champagne colored
. It seems that Apple actually had a more interesting code name for the handset, the "
Kardashian phone
". This interesting information comes by way of a New York Times reporter, not a scribe for the National Enquirer. The name was used by Apple employees during the entire design process. So, do any of the Kardashian's own a gold iPhone? As it turns out, Kim had sent out a tweet last December that included a photograph of her gold
Apple iPhone 5
.
Who gets the credit at Apple for coming up with the idea of offering a gold iPhone 5s? According to those jokers at Team Coco, it is the garishly attired Raffi Jaharian, Apple's VP, Gold. With his belief that "
gold is best
, "Jaharian was Apple's choice to help produce its first gold colored smartphone. As long as we're dealing with fictional characters here, we also might have suggested Goldmember as someone who might have been able to design a gold colored iPhone.
source: CNET (
1
), (
2
)