Get to know the Galaxy TabPro S better thanks to Samsung's newest infographic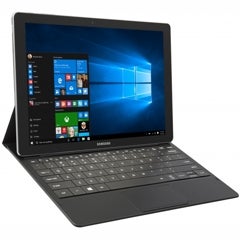 Merely days ago during its press event at CES 2016, Samsung unveiled its the
Galaxy TabPro S
, a Windows 10-powered tablet that is its answer to
Microsoft's Surface Pro 4
as well as the
Apple iPad Pro
slate.
It's well-equipped for the task at hand and does not bring a knife to a gunfight: with a 12-inch 2160 x 1440-
pixel
Super AMOLED display, a 6th-gen 14nm Intel Core M chipset, and 4GB of RAM, the TabPro S might nor be as over-spec'd as its rivals, but is a viable alternative.
In fact, after a brief time spent with it we can safely say that it can potentially be more productive than Apple's
iPad Pro
, though not as much as the Surface Pro 4. Who knows, Sammy might have a real winner in the portfolio, provided that it prices it just right.
After the dust of CES 2016 has settled of and the excitement around the new gadget announcements has waned a bit, Samsung decided that it's high time to present its new slate in a more consumer-friendly manner. And what's a better way to do so than create a fancy infographic?
Indeed, the TabPro S is the subject of Samsung's latest one, and it highlights some of the productivity device's traits, like its multifunctionality, ergonomics, and display qualities, among others. Check out the full infographic right below. Also, don't forget to check out our hands-on of the Samsung Galaxy TabPro S once you're ready.