Meet the first Windows-powered Galaxy: Samsung Galaxy TabPro S with Windows 10 is now official
56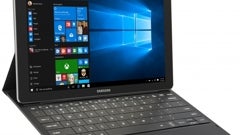 Earlier today, we told you that Samsung may soon unveil a Windows 10-based tablet called
Galaxy TabPro S
. Well, the device has just been announced at CES 2016, and will be released around the world come February, in black and white (both Wi-Fi-only, and LTE variants will be available). Mind you, this is Samsung's very first Galaxy device to be powered by Windows (all previous Galaxies ran Android), and seems to be the company's response to Microsoft's Surface Pro line, and Apple's iPad Pro.
Measuring 290.3 x 198.8 x 6.3 mm, the Galaxy TabPro S is a pretty large 2-in1 tablet that sports a 12-inch Super AMOLED display with 2160 x 1440 pixels - that's not as high as the pixel resolutions of Microsoft's
Surface Pro 4
(2736 x 1824), or Apple's
iPad Pro
(2732 x 2048), but still high enough to provide a nice viewing experience.
Powered by a 6th generation, dual-core Intel Core M processor clocked at 2.2GHz, the Samsung Galaxy TabPro S can offer full PC functionality, thanks to Windows 10 and all its features - including Microsoft Office, OneDrive, Cortana, and the new Microsoft Edge browser.
The Galaxy TabPro S comes with 4 GB of RAM, and includes a 5,200 mAh battery that can last up to 10.5 hours, and can be fully charged in 2.5 hours. The tablet also has two 5 MP cameras: one on the rear, and one on the front.
Samsung didn't say how much the Galaxy TabPro S will cost. The good news is that the detachable keyboard that you can see in the images below comes includes with the device. A Bluetooth Pen, and a multi-port adapter (HDMI, USB Type A & C) will be available to buy separately.
So, what do you think? Is the Samsung Galaxy TabPro S a device that you'd want to buy?
source:
Samsung