Samsung Galaxy TabPro S hands-on: a Surface competitor?
40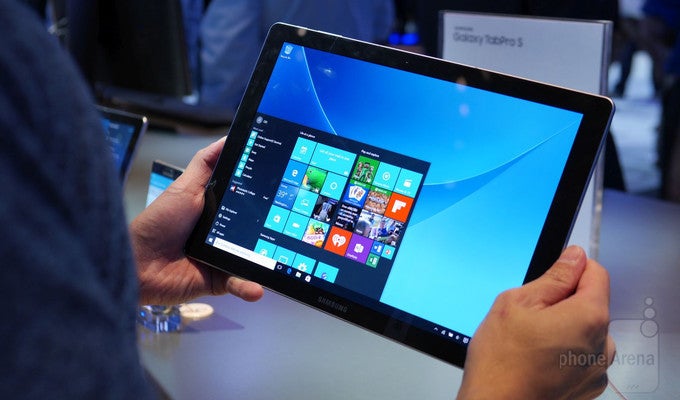 So, who's excited about Samsung's new smart refrigerator? We know we are – that huge touchscreen in its front looks sweet, and it is awesome how those internal cameras let us peek at what's inside at any time. Oh, who are we kidding? We know we're all curious about the Samsung Galaxy TabPro S, running Windows 10. Its announcement marks the company's push into territory it has barely charted – that of 2-in-1 tablet devices. And when looked at from a broader perspective, the TabPro S is clearly coming in response to Microsoft's Surface Pro line and Apple's iPad Pro tablet. Could it stand a chance against them, however, and is it a device worth being thrilled about?
Design
Ladies and gents, we're holding the lightest and thinnest 2-in-1 tablet device made so far. The Samsung Galaxy TabPro S is 0.25 inches (6.3 mm) thick and weighs 1.53 pounds (693 grams), which makes it thinner and lighter than the Surface Pro 4 and the iPad Pro. And that's quite a big deal, actually, as the TabPro S makes a solid statement about being highly portable. We wouldn't go as far as calling it lightweight, but for something of this size, we're perfectly satisfied with how the device feels when held.
There's a metal frame holding the Samsung Galaxy TabPro S together, populated by a variety of connectors and buttons. On the left and right sides we have openings for a pair of stereo speakers. One notable mention is the single USB Type-C connector. It is used for charging the tab's battery, but also for adding HDMI and standard USB connectors with the help of an adapter (to be sold separately). Oddly, the 3.5-millimeter audio connector is in the bottom right corner, which might make the tablet awkward to hold when a pair of earphones are plugged in. While the TabPro S packs plenty of on-board storage, having a microSD card reader built in would have been convenient.
Keeping the weight low, the back of the Galaxy TabPro S is made of matte plastic. While the finish does provide sufficient grip, it is also good at accumulating finger traces. Sticking out slightly is a 5MP main camera without a flash.
Keyboard dock and accessories
Being a 2-in-1 device, the Samsung Galaxy TabPro S features a physical keyboard attachment with a trackpad. Magnetically attached to the tablet, it enables us to type quickly and conveniently, all while doubling as a stand with two possible viewing angles. And when it isn't in use, the keyboard serves the function as a cover, protecting both the front and back of the slate. To be clear, this won't be sold separately. The TabPro S will be bundled with its physical keyboard dock, unlike the case is with the Surface Pro 4 and the iPad Pro.
We got to give the keyboard attachment a quick test at the CES Show floor, and we can confirm that it works well. The keys are large and have sufficient travel, so achieving decent typing speeds is only a matter of getting used to the accessory. Plus, the trackpad is nice when you need precision when moving the cursor around.
As we mentioned above, the Galaxy TabPro S lets you add HDMI output and USB Type-A connectivity with the help of a special adapter. Furthermore, Samsung will be offering a Bluetooth active stylus for drawing and note-taking. Both of these accessories will be optional.
Display
The front of the Samsung Galaxy TabPro S is graced by a 12-inch Super AMOLED panel exhibiting all the characteristics typical for the technology – deep blacks, wide viewing angles, and rich, saturated colors. The exact resolution of the display is 2160 by 1440 pixels, which results in 216 ppi – less than what you'd get out of a Surface Pro 4 or an iPad Pro, but sufficient for a device of this class nonetheless. We must also highlight the 3:2 aspect ratio of the display. While these proportions aren't ideal for watching movies, they give you more convenience when browsing the web or using productivity applications. On a related note, the Surface Pro 4 also uses a 3:2 display, while the iPad Pro features a panel with a 4:3 aspect ratio.
Processor and memory
Intel's new Core M processor, built on 14nm process, powers the Samsung Galaxy TabPro S. Mind you, this isn't a chip built for serious performance or hardcore gaming. It has been developed to be highly efficient and battery-friendly, yet powerful enough to deliver a smooth Windows 10 experience. As a matter of fact, the chip has a TDP of only 4.5 watts and requires no fan to stay cool. For those who are curious, the exact chip in use is the Core M3-6Y30, with 4MB cache and a 0.9GHz clock frequency. Under heavy load, this figure gets boosted to 2.2GHz, as long as the chip isn't running too hot.
In terms of RAM, you get 4GB of the stuff. That's not bad, but it looks like there's no way of adding extra gigs of RAM – RAM that would come in handy when using heavier productivity applications. Storage options include 128 and 256 gigs in SSD form.
Battery life
As we mentioned above, the hardware inside the Samsung Galaxy TabPro S is built with efficiency in mind. That's why it comes as no surprise that the tablet promises great battery life – about 10.5 hours of use per charge, to be more specific. When depleted, the built-in 5,200mAh (39.5Wh, 7.6V) battery can be recharged fully in just 2.5 hours.
Expectations
We know what the Samsung Galaxy TabPro S looks and feels like. We know what hardware powers it and we're familiar with Windows 10 running on the slate. We know that it will be bundled with a pretty handy physical keyboard attachment. What we don't yet know, however, is how much it is going to cost. And we're not expecting it to be cheap, especially if one wants the 256GB model and to have the optional 4G LTE radio installed. Still, if Samsung nails the right price, it might have a winner on its hands.
The Samsung Galaxy TabPro S stands in the ground between the iPad Pro and the Surface Pro 4. As it runs a full-blown, desktop-grade operating system, it can be seen as a device with more productivity potential when compared to Apple's top iPad. On the other hand, Samsung's offering lacks the processing power one may get out of the Surface Pro 4, but could end up being cheaper to buy.
In any case, the Samsung Galaxy TabPro S is shaping up as a decent 2-in-1 tablet device – one that's light and slim enough to be easily carried around, but capable of getting serious work done at the same time. Expect seeing it on shelves near you in February.