German techies create an iPhone 5 prototype out of aluminum and glass, powered by rumors
12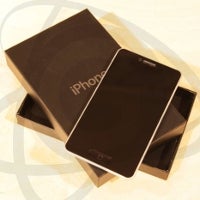 UPDATE:
We changed the video to one with English subtitles.
A team of German techies decided to contribute in the run-up hype towards the
next iPhone unveiling October 4
, and have created a mockup of sorts, that uses all plausible rumors so far as a guidance. The crafty folks at Giga.de and Benm.at said they used CAD design based on ""
hardware components, several leaked hints, cases and recent, believable mockups
".
The back is machined out of single sheet aluminum, using the same process that goes into an iPad creation, and which was treated with glass pearls to give it the "
slightly rough touch
" of the iPad. They even managed to replicate the rumored "teardrop" shape, as the prototype shell starts at 6.86mm thickness at the top, and goes down to 5.33 when you reach the bottom.
It's a good clean fun, so have a look at the video below where they explain the process of creating the mockup. How close is it to the real thing, we are about to find out on Tuesday.