Why Qualcomm won't get any satisfaction from the German iPhone sales ban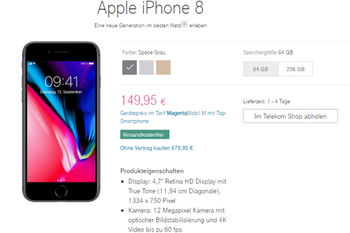 This information makes you wonder why
Qualcomm even bothered to post the $1.52 billion bond
required to start the ban. That money is supposed to be used to reimburse Apple for any lost sales of the affected models in the case that Apple's appeal is successful. Meanwhile, in Germany it appears that the Apple
iPhone 7
and
iPhone 8
are still available from T-Mobile (see image at the top of this article), O2 and Vodafone. Additionally, these models are still offered by German's largest consumer electronics chain, MediaMarkt.
While Apple is forced to send resellers, including the carriers, a letter recalling the iPhone models affected by the action of the Munich court, these third parties are not obligated to act. In fact, they cannot be cited for contempt by the court for not following through on the ban. Considering that only 3% of iPhone sales in Germany are rung up directly by Apple, it would appear that Qualcomm is not going to get its monies worth with this injunction.
Another ruling is due soon in Germany over four Qualcomm patents related to iOS search, contacts, and shortcuts in Spotlight. However, Apple has already pushed out an update to iOS 12 that supposedly removes any Qualcomm software from its phones.