German court upholds Samsung Galaxy Tab 10.1 injunction
99+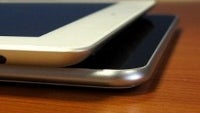 The seemingly endless legal fight between Apple and Samsung has taken yet another turn as a German court in the western city of Dusseldorf has upheld the
preliminary injunction
issued last month banning the Koreans from selling their Samsung Galaxy Tab 10.1 in Germany. The court however didn't ban sales in the European Union as a whole as it declared itself only competent to rule on a ban across the EU for a company, which has a German subsidiary.
Judge Brueckner-Hoffman explained that the court found a
"clear impression of similarity."
The
similarity
seems to be mostly in the design as both devices were supposedly with a
"minimalist, modern form,"
and both shared common elements like the flat screen and round edges. This might seem like a rather vague terms to describe a tablet as nearly all such devices after the iPad are made like that. At the same time, there are whispers that other companies producing tablets like Acer and ASUS won't be sued as their designs are reportedly
"totally different."
Apple has also won another injunction, this time
banning sales of the newly unveiled Samsung Galaxy Tab 7.7
. The tablet disappeared from IFA 2011. After the confirmation of the Galaxy Tab 10.1 injunction, Samsung issued the familiar "We are disappointed with this ruling and believe it severely limits consumer choice in Germany" comment, while Apple remained silent.
Cupertino is launching a massive offensive on the Korean manufacturer, which - it claims - has
"slavishly"
copied its devices. Legal action will soon follow in the Netherlands, but also Australia, the United States, and most recently Japan. Now, there certainly is some similarity between those tablets, but is that a valid reason for a lawsuit? Stateside, the pattern system is undergoing a major change, but what's your opinion - are those the type of patterns that matter? Feel free to also consult our detailed iPad 2 - Galaxy Tab 10.1 comparison to see all the differences yourself.
Image courtesy of Expansys.com