German city caters to those who text and walk by placing traffic lights in a unique location
20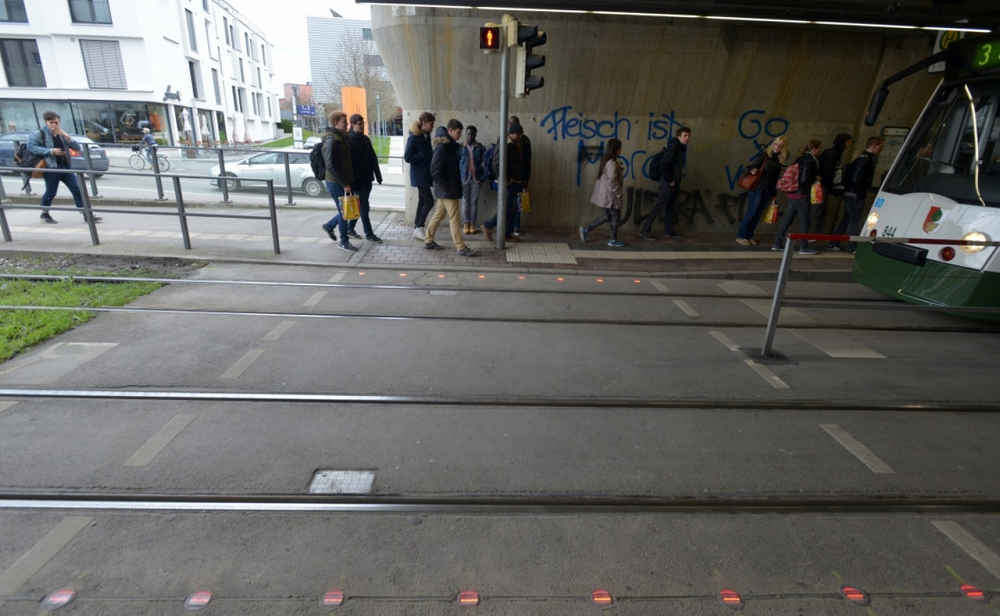 In the German city of Augsburg, traffic lights are embedded into the sidewalk for those who text and walk
Last month, we told you about proposed legislation in New Jersey that would make it possible for cops to
fine someone $50 for texting and walking
, or have them tossed in the slammer for 15-days. Other states are following suit. While U.S. lawmakers are trying to pass laws that make a criminal out of those who text while crossing a busy intersection, a city in Germany is taking a different tact by bending over backwards to those who are constantly looking down at their screens.
In the German city of Augsburg, the residents recently mourned the death of a 15-year old girl who was killed by a tram while looking down at her smartphone. Even before that tragedy, it became obvious to everyone in the city that pedestrians were all looking down at their handsets while crossing the street. Instead of passing a law that would make such acts illegal, the city had a better idea. They embedded traffic lights into the pavement by two tram stops. This way, those looking down at their smartphone screens are sure to see the status of the traffic light as they are about to cross an intersection.
This approach is bound to save some lives. New research shows that 20% of pedestrians in major European cities are distracted by their handset as they mosey along the road. The problem in the states is even worse as 33% are texting or working on their smartphone at dangerous intersections. Two years ago, the Chinese city of Chongqing thought that they had a solution to these smombies (a combination of the word smartphone and the word zombies). The city
tested the division of a 165 foot stretch of sidewalk into two halves
. One would be used for those walking in the normal manner. The other side was reserved for those walking with their heads down, staring at their phones.
Leave it to the U.S. though, to come up with a legislative approach when something more innovative might work better.
source:
AugsburgerAllgemeine
(
translated
) via
WashingtonPost