New Jersey and other states seek to pass legislation making it illegal to text and walk
58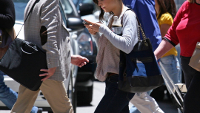 If a new proposal becomes law, those living in New Jersey will need to refrain from texting while walking. Failure to do so could result in a $50 fine, or 15-days in jail. New Jersey assemblywoman Pamela Lampitt recently introduced a measure that would ban texting while walking. Additionally, pedestrians trekking on public roads would not be allowed to use any electronic communications devices unless they were hands-free.
The potential punishment of $50 or 15-days in jail is the same received by jaywalkers in the state. 50% of the money generated by fines would be used to educate the public about the dangers of such "distracted walking." The behavior could be responsible for the increase in the percentage of U.S. fatalities credited to pedestrians which rose from 11% in 2005, to 15% in 2014.
Other states have tried and failed to pass bills that would punish distracted walkers. A bill that is awaiting a vote in Hawaii would fine a pedestrian $250 if he/she were to cross the street while using an electronic device. Bills similar to that one have already failed in Arkansas, Illinois, Nevada and New York.
Douglas Shinkle, transportation program director for the National Conference of State Legislatures, says that so far no states have passed legislation related to distracted bicyclists or pedestrians. But he notes that a few states keep trying to pass new legislation every year. Some see this as an example of the government overreaching, and wonder if cops will even have the time to enforce any new law put on the books.
Others point to a report from the National Safety Council that says there have been 11,101 injuries from cellphone related distracted walking from 2000 to 2011. Most of those injured were female under the age of 40. Most were talking on their phone at the time of their injury, while 12% were texting. 80% of the incidents involved the pedestrian falling, while 9% of the cases were related to the pedestrian running into something that wasn't moving. Injuries ranged from dislocations or fractures, to sprains or strains, and concussions or contusions. Lawmakers look at those stats and say that something must be done.
"Distracted pedestrians, like distracted drivers, present a potential danger to themselves and drivers on the road. An individual crossing the road distracted by their smartphone presents just as much danger to motorists as someone jaywalking and should be held, at minimum, to the same penalty."-Pamela Lampitt, New Jersey assemblywoman
source:
TheGuardian