Geekbench 3 test shows 1GB of RAM on the Apple iPhone 6s Plus? (UPDATE)
99+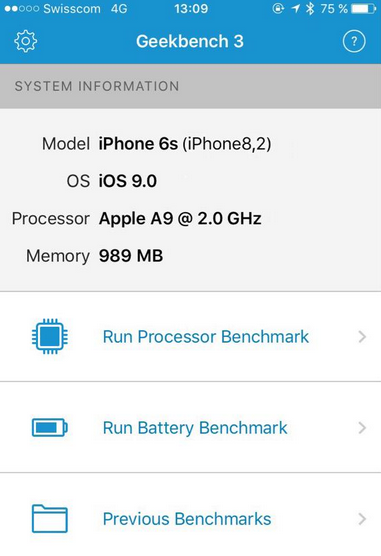 Test of Apple iPhone 6s Plus shows that there is just 1GB of RAM inside
Back in January, when 2015 was young and new and the year was full of so many possibilities, there was a rumor that
Apple would double the amount of RAM in the next iteration of the iPhone
to 2GB (LPDDR4). Currently, the
Apple iPhone 6
and
Apple iPhone 6 Plus
both employ 1GB of LPDDR3 RAM.
What gave teeth to this rumor was the fact that Apple had doubled the amount of RAM in its flagship tablet, the
Apple iPad Air 2
, to 2GB. But just assuming that Apple would do the same with the
Apple iPhone 6s
and
Apple iPhone 6s Plus
might be wrong. According to a developer in Switzerland who claims to work for Apple, a Geekbench 3 test of the Apple iPhone 6s Plus reveals just 1GB of RAM inside. The model number listed on the test results (8,2) indicates that the 5.5-inch phablet version of the iPhone 6s went through Geekbench 3, and we can see that it is powered by the A9 chipset with the CPU running at 2GHz.
We can't compare the 1GB of RAM on the Apple iPhone 6 and Apple iPhone 6 Plus with the 4GB that is becoming the norm on high-end Android models. Because iOS is optimized to work well with 1GB of RAM, there is no reason why Apple should feel compelled to match the amount of RAM used on Android.
We should also point out a few things about this story. One, the device tested might be a prototype unit that happens to be using 1GB of RAM. Two, the whole test could be faked. As a result, you should head to the cupboard and take this story with the proverbial grain of salt.
Thanks for the tip!
source:
@FabianWannerOFF
UPDATE:
This is why we take some stories with a grain of salt. We received an email from a reader showing us another trip through Geekbench made by the iPhone 8,2 which is the Apple iPhone 6s Plus. The data, from this past March, showed the device powered by a tri-core 1.5GHz CPU, with 2GB of RAM inside
.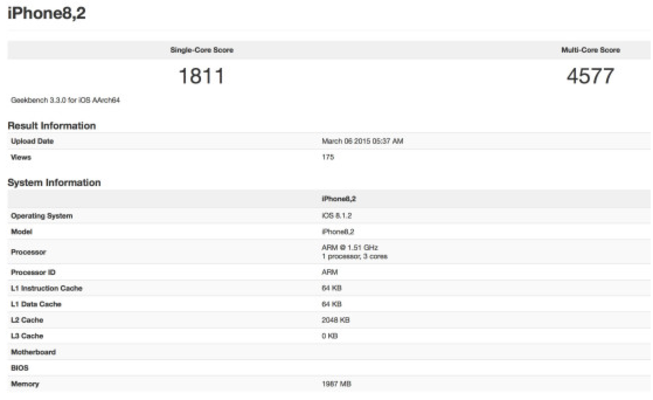 Older Geekbench test shows iPhone 6s Plus carrying 2GB of RAM
Thanks for the tip!
source:
Tablety.pl
(
translated
)