Gartner predicts that mobile phone sales will go 4.6% up in 2014
3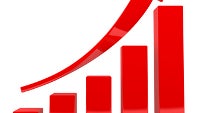 Ever wondered how many mobile phones are going to be shipped worldwide by the end of 2014? Well, Gartner says that the number you are looking for is just shy of 1.895 billion devices - a 4.6% increase in comparison with the 1.807 billion devices, shipped back in 2013. Looking even further ahead into the future, Gartner predicts that roughly 1.953 billion mobile phones will be sold in 2015. According to the research company, the main culprits for this growth will be the increased sales in
"the lower end of the premium market and the higher end of the basic phone market".
According to Annette Zimmermann, one of the principal analysts with Gartner,
"While the lack of compelling hardware innovation marginally extended replacement cycles in 2013, we've witnessed an upgrade path in the emerging markets. Latin America, the Middle East and Africa, Asia/Pacific and Eastern Europe have all upgraded their phones, which will help to compensate for mature market weakness in the near term."
Gartner also reveals that tablets will continue to bite big chunks of the market share of traditional desktop PCs and laptops/notebooks in 2014/2015. As the market for tablets gradually gets saturated, the prices of these devices will surely go down, the agency predicts. In addition, users begin to look for additional features in the devices they want to lay their hands on. The price factor is still present, but more and more more and more consumers now look for, say, better connectivity or extra portability when on the market for a new slate.
"The adoption of tablets has been largely concentrated in the U.S., with the dominance of Apple. Market dynamics in other regions are different, as the uptake of lower cost, smaller, non-branded tablets, becomes more apparent,"
claimed Ranjit Atwal, a research director at Gartner.
Gartner expects that the overall number of Android devices that will be shipped by the end of 2014 will surpass the psychological barrier of 1 billion devices. Around 1.17 billion Android-powered gadgets will most probably be sold in 2014 alone, whereas their amount will rise to 1.358 billion in 2015. Meanwhile, Apple is predicted to retail roughly 286.4 million iOS devices in 2014 and 324 million in 2015.
source:
Gartner
via
Digitimes