"Game changer" LG G Watch 2 could show at IFA
14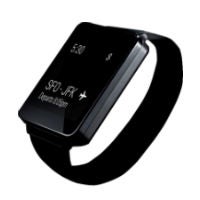 The LG G Watch has only been on sale for a little under two months, but a new report says that LG is getting ready to show off the LG G Watch 2. According to the
Korea Times
, LG has a "serious game changer" wearable that it is going to be shown off at IFA, which is happening from September 5th to the 10th in Berlin.
The report says an LG official told
Korea Times
that LG has been "working on a September release for the new smartwatch alongside Google's wearable platform. The IFA fair may be the venue to see the upgraded smartwatch." The details about the watch are fairly scarce though. It is said to feature an OLED display, which would be a change from the IPS LCD display found in the current G Watch. And, the new watch will reportedly use a Qualcomm processor, but LG does have plans to use its own Odin processors in the future.
Beyond that, there isn't much to say. Unsurprisingly, the LG G Watch 2 is said to be a competitor for the as yet vapor iWatch. It is unclear though whether the general public will actually get to see the G Watch 2, or if it will only be shown to clients. An LG official said that "LG Electronics is being approached by a lot of authoritative watchmakers for strategic collaboration", so LG may just show the watch to clients in order to work on those partnerships.
We'll definitely be on the lookout though, and we'll bring you anything that comes out about the next LG G Watch.