The Galaxy Watch is actually a meaningful upgrade, but not in terms of hardware specs
This article may contain personal views and opinion from the author.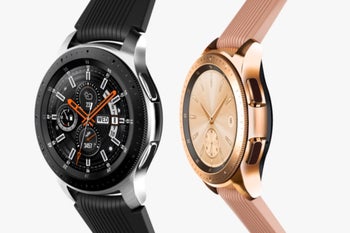 After months of rumors and hype, the actual reveal of the Samsung
Galaxy Watch
(a.k.a. the Gear S4, as we used to call it prior) was kind of anticlimactic. They just showed us the watch, boasted about a couple of features that we already have on the
Gear S3
and
Gear Sport
, and that was it. The processor is only marginally faster and there's a version with more RAM now, but... it doesn't look like much of an upgrade, does it?
Well, it is, really. And, if Samsung plays its cards right, it will be one of the most meaningful upgrades to its smartwatch line. Not an upgrade of internal components, but a shift in how the public sees Samsung's smartwatches.
Let us explain:
Expensive gadget or a stylish accessory?
Apple figured out that game 3 years ago, when it launched the
Apple Watch
. Sure, it did stick a lot of new and interesting hardware in its timepiece, like the Taptic engine for super-accurate feedback, and its pressure-sensitive Force Touch displays. But when it came to marketing, Apple made sure that the message is clear — this is a premium, stylish accessory (*ahem* just look at all the expensive watchbands you can get for it!). And the numbers show it — the Apple Watch is not only the best-selling smartwatch in the world, it has actually toppled classic watch brands as well!
Get that geeky thing away from me
In their early days, smartwatches were not a pretty thing to look at. Boxy designs, bulky bezels, and not-so-great displays were things you'd see on most wearables that dared pop up on the market. And, sure, that's absolutely a normal stage that every new tech needs to go through. However, it's way back then when smartwatches were labeled as "too geeky" — not only were they expensive, they were also not something you'd like to be seen wearing in public.
Obviously, those were devices for the early adopter — the person that is more excited about tech than fashion.
Samsung's Gear line does date that far back, with the 2013
Galaxy Gear
's boxy profile still etched into the back of our minds. Then, there were a few iterations, which led to the super-sleek
Gear S2
. And, as we were expecting Sammy to go more and more into stylish designs, out came the
Samsung Gear S3
in two variations — Frontier and Classic.
With the S3 generation, Samsung achieved an enormous leap in terms of battery life. A Gear S3 can live on a single charge for up to 3 or even 4 days, which is pretty much unrivaled in the smartwatch sector. However, there was a drawback — the Gear S3 watches were back to being bulky and quite unattractive for people with smaller wrists. The
Gear Sport
came out a year after that with a slightly slimmer profile, but it cut down on features like LTE, a speaker, and Samsung Pay.
But we are hot now, right?
And now comes the Galaxy Watch — a successor of the Gear S3 — in two variants. One has the bulky, 46 mm chassis of the Gear S3, while the other one is a bit smaller, at 42 mm. The design has also been refined further, pushing the Galaxy Watch's looks further up the "classic elegance" scale.
a massive battery
(considering the scale).
Was the watch even worth upgrading at this point? Should Samsung have waited until it can bring a meaningful upgrade to the Gear S3?
Conclusion: with the Galaxy Watch, Samsung aims for the hardest thing to upgrade — the audience's perception
Back to our earlier points — the market has already proven for a fact that if Samsung wants to sell more smartwatches, it needs to detach its products from the stigma of "geeky gadgets". And a lot of that stigma comes with the Gear name — the brand has been around for a while, for sure.
By marketing it as the Samsung Galaxy Watch, Sammy is not only introducing a "new product", but one that proudly flaunts the same name as its shiny smartphones. It is now worthy of being a flagship for the Samsung ecosystem — it looks good, sports a ton of features, and is still ages ahead of the competition when it comes to battery life.
So, we dare say that the most meaningful upgrade in the Galaxy Watch is its name. If Samsung pulls this off, we could be witnessing a booming rejuvenation of its smartwatch line. Who knows, maybe it can threaten the Apple Watch one of these days...