Galaxy S9 to be released early: no in-display finger scanner, but its back will 'change a lot'
32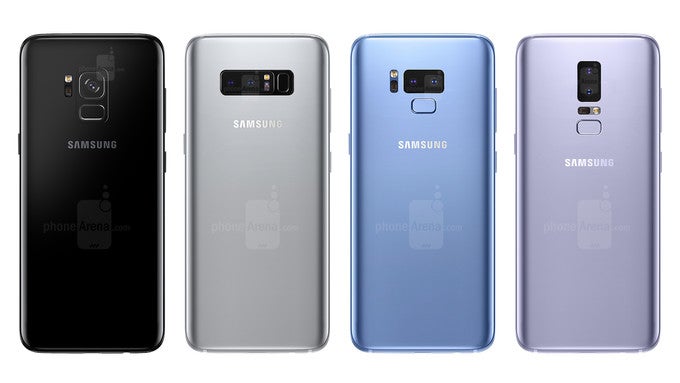 These are all possible variations of the S9 rear that is said to 'change a lot'
Back in the summer, Korean media reported that Samsung Display will commence the shipment of the
Galaxy S9
's OLED panels in November, which is two months earlier than usual, feeding the notion that the next Samsung flagship might be released before the usual April/March time slot. Earlier on, the same sources tipped that all three major phones from Samsung next year - the Galaxy S9,
S9+
, and the Note 9, will
use the same screen sizes as their predecessors
, indicating that the Infinity Display design will be here to stay for at least another edition of Samsung's flagship lines, which makes perfect sense.
Today, a source with good track record of extracting scoops from the Asian blogosphere, reiterated those two claims, saying that the S9 and S9+ will be entering mass production as soon as next month. It is not that far-fetched of an idea, too - given the rumors that the S9 and S9+ will ship with the same 5.77" and 6.22" screen panels of their predecessors, the main thing Samsung needs to upgrade is the processing power, and to slap the dual camera set from the
Note 8
. The source tips that the "
back of the Galaxy S9 will change a lot
," too, which may serve as one more piece of evidence that it could
sport a dual camera setup
.

As for why would Samsung try to pull the S9 forward, well, the industry insiders cite the
iPhone X
as the main reason for the early bird strategy, trying to defend its sales against what may turn out to be a hit among smartphone buyers. Given the iPhone X's $999 price, they also might not upgrade for the next two years at least, so the S9 could be airdropped earlier to try and mitigate the eventual iPhone X success.
Unfortunately, a separate report claims that the S9 and S9+, which it confirms are slated to hit the conveyor belts in December, won't come with the troubled
in-display finger scanner
technology which won't be perfected before the time the Note 9 hits next August, so Samsung's next phablet hit might be its first phone employing it,
just as rumored before
. As to whether the Galaxy S9 and S9+ will
ship with a 3D face-scanning kit
as an extra biometric solution, the sources are keeping mum, so we'll just have to wait for
more details
to trickle down.
Recommended Stories