First Galaxy S9 preview pops for the Snaprdragon 845 US version, confirms all the new features
44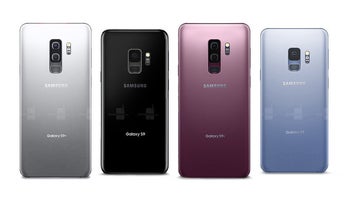 Well, well, well, some are mining bitcoins and
interfering with people's phone calls
, others are mining Reddit threads for information about the
Galaxy S9
, and scoring a whole AMA dedicated to Samsung's flagship.
Coming from someone who claims they spent about 20 minutes toying around with the phone, the session is rife with first-look impressions about the S9, so we will summarize the guy's impressions below, so you don't have to read through the whole wide thread.
First off, the
design
is indeed very close to the
S8
, and the
leaked renders
apparently were made with an odd perspective, as the guy says the S9 doesn't have noticeably thicker side bezels, just matte instead of glossy finish there. The weight also left pretty much a similar feeling in its hand, and the only really apparent difference in design was the
fingerprint scanner
located underneath the camera this time, which still made him hit the camera lens one too many times.
The
dual stereo speakers
got confirmed - one at the bottom, and one doubling as an earpiece, as well as the presence of a standard audio jack. The sound from the speakers was "a major improvement," compared to the S8, though the surround sound option sounded a bit "phony," as most of them do on small handsets.
Perhaps the biggest selling point of the S9, besides the fast chipsets, would be the cameras - the rear one with
variable aperture
, which the source says can now do "
4k60fps and higher framerates at 720p480 and 1080p240
." Sorry, no
1000fps slow-mo
, but that was the Snapdragon 845 model for the US, plus the S9 in question was not a finalized retail version, so stay tuned.
As for the front camera, the guy said that the one feature that will be marketed heavily after launch are the new
3D Emoji
, which, however, is
"not a direct ripoff of animoji, more like a mix between animoji and bitmoji. You create an avatar, and can control its facial features, similar to an animoji. IMO it looks less polished than "apple's version." They are similar but different things
." That's more or less it, and the source stayed mum on the pricing, as they aren't allowed to discuss that, just mentioned that the freebies that Samsung throws with the S9 may take a surprising turn compared to previous S-line launches in the US.
Recommended Stories