Galaxy S8 may come with curved Dual edge screen in both the 5.1" and 5.5" flavors
37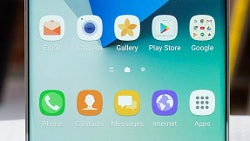 The
Note 7
announcement came and went, and it's time for the Galaxy S8 rumor mill to turn on in full speed. The latest tip out of the Korean press is that Samsung's 2017 flagship will employ a curved display, just like on the
S7 edge
or the Note 7.
Well, these two differ in
the steepness angle of the Dual edge displays
, but it will apparently be the same general idea. Samsung has allegedly already tasked its display department with producing curved panels both with 5.5" diagonal, for the eventual S8 edge, and 5.1" screens for the S8. This could very well mean that there will be no version of the S8 with flat display, as there is no Note 7 model with one, so Samsung will be completely moving to curved Dual edge displays for its flagship lines as a differentiator.
Now, where does that leave us with the speculation about
4K screen resolution on the S8
that will apparently
usher us in the era of virtual reality
, remains to be seen. Not that it is impossible for Samsung to produce a curved 4K display, but the yields would be key. Last year, it couldn't produce enough curved panels for the
S6 edge
, resulting in loss of sales, which the chief of Samsung Mobile called "heartbreaking" (he is
using that word
a lot these days), and we can only imagine the pressure on the Samsung Display subsidiary if it has to churn out many millions of 4K Dual edge screens. Thus, we'd take the 4K resolution rumor with a grain of salt, unless it refers to the 5.5" S8 edge, of course.
As for the other novelties that might be in store with the S8, remember those tips that Apple and Samsung are hard at work
testing dual camera systems
for their future phones? Well, Apple already brought this idea to fruition in the iPhone 7 Plus that was unveiled this week, while Samsung's dual camera efforts are now rumored to materialize in the Galaxy S8 and the eventual S8 edge. The last info that leaked out about Samsung's alleged dual camera for the S8 was that it will consist of a 12 MP camera of Samsung's own making, likely similar to the one we have now on the S7, and a yet-unnamed Sony module with 13 MP resolution.
So, a dual edge display and dual camera may be coming to Samsung's venerable S-line as a combo for the first time, and we can't help but wonder how will Samsung name an eventual 5.5" S8 edge, if the S8 has a curved display, too. Any guesses?