Galaxy S8 and S8+ specs review: to infinity and back
25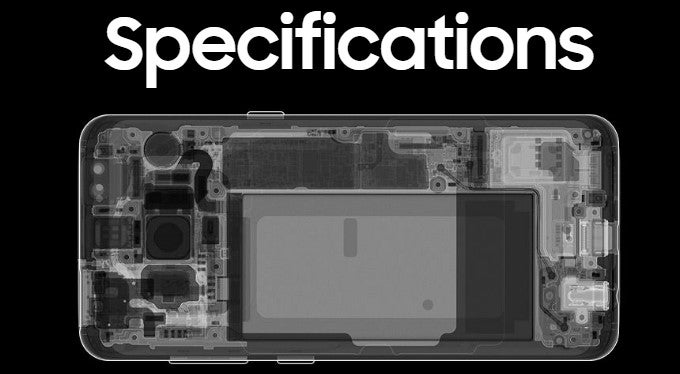 Here it is,
April the giraffe's baby
#TheNextGalaxy, and it is every bit as impressive as the leaked renders and the rumor mill suggested. How about the best record screen-to-body ratio in its flagship class? Check. The fastest, most frugal chipsets available? Check. Futureproof display aspect? Check. 64 GB of base storage? Check. Autofocus selfie snapper? Yep. And on and on.
Samsung has outdone itself with the
Galaxy S8
and
S8+
, and has even bumped the launch price a bit, that's how confident it seems in its new phones, given the eventual brand damage from the
Note 7
recall. The company had a chance to redeem itself, and the
Galaxy S8
is poised to be its knight in a white shining armor - or, Coral Blue one, if you prefer. There is more to the S8 and S8+ that meets the eye, so let's dive into the nitty-gritty aspects of the two flagships that Samsung announced.
Design
Record screen-to-body ratio among flagships, Gorilla Glass 5 protection - welcome design twists
Boy, does the S8 deliver on that front. Samsung stuffed no less than six elements in the top bezel, including a face recognizer set, ditched the home key, moved the scanner on the back, and slimmed the bottom bezel in a never-before-seen manner.
Mi Mix
- and more than Sharp's infamous
EDGEST display designs
. Granted, this number is helped by the curved display sides, too, but the slope here is very minimal, and mostly for aesthetic, rather than any functional purposes. Samsung calls this technology Infinity Display, and intends to employ it in future flagship devices, too.
Thermoforming, nanocoating - that's how Samsung calls the processes it employs to reach the glass sandwich designs of its phones. The Galaxy S8 back, and its curved flexible display with plastic substrate, are covered with a "3D Thermoforming" tech, which places the protective glass between two molds, heats it to 800 degrees Celsius, and then the cover glass gets pressed into the perfect symmetrical shape we see sloping towards the sides of the S8 and S8+.
The shiny colors of the phones are achieved by a nano-thin multi-coating process that resulted in a polished finish that looks patterned from up close. The tapered, symmetrical cover glass allowed for thinner metal frame and buttons, which is important, as now we have a brand new one on the left that launches the Bixby personal assistant.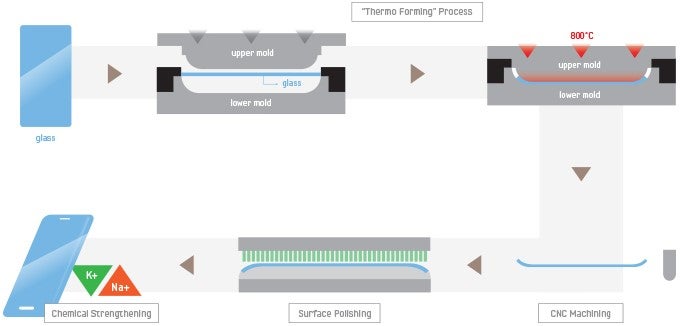 All of these technologies return a brand new design for the Galaxy S-series, and the Galaxy S8/S8+ are also the smallest phones for their screen sizes as a result. Don't get us wrong, the S8+ is still one big mofo, but this time Samsung has put a 6.2" panel in a size that big-screen phone lovers are accustomed to anyway. They were just accustomed to having 5.5 or 5.7-inchers in this footprint.
Display
Samsung gives edge-to-edge new meaning with the "Infinity" Galaxy S8 display
The "Infinity Display" of the S8 and S8+ impresses not only with the sheer space occupancy at the front, but also with its higher, WQHD+ resolution of 2960x1440 pixels. Thus, the rumored 18.5:9 screen aspect ratio may turn out true in the end. This new standard, called
Univisium
, is similar to what LG did with the
G6
, and allows for taller, narrower devices. The default FHD+ screen setting of the S8 is actually 2220 x 1080, while the new HD+ is 1480 x 720 pixels. While apps, games and video that are done at 16:9 will be letterboxed in the beginning, the Univisium format is the future of movie and TV series capture, so the content should be adjusted soon after there is a critical mass of devices that can employ it fully.
Samsung has employed a pressure-sensitive bottom area on the Super AMOLED display for the first time, too. It serves a haptic home button purpose of sorts, so that you aren't completely longing for the clicky physical experience if you are coming from an older Galaxy.
Processing power and memory
The fastest, most frugal chipsets available are Galaxy S8 exclusive, and 64 GB is the basic storage - what's not to like

As is the case for almost every of Samsung's flagships, each of this year's Galaxy S8 variants will come in two separate versions – one for the US and China, running on Qualcomm's Snapdragon 835, and one for the rest of the world, powered by Samsung's own Exynos 8895. This comes as a result of Qualcomm's firm grasp on CDMA-related patents, which all but guarantees their near-monopoly in the States, forcing companies like Samsung to release modified versions of their devices compatible with local bands.
It's fair to say that the end user will probably never feel the difference, as both are now manufactured by Samsung with its class-leading
10nm technology
, resulting in the most powerful yet most frugal chipsets currently available. Coupled with 4 GB of dual-channel DDR4 RAM, and 64 GB of
UFS 2.1
storage, the S8 and S8+ can take on any task thrown at them in a breezy manner. Here are the specs and features of the two chipsets that power the Galaxy S8 and S8+.
Snapdragon 835
Exynos 8895
CPU Cores
Kryo 280
Custom + Cortex A53
CPU Configuration
4 x 2.45 GHz
4 x 1.9 GHz
4 x 2.5 GHz
4 x 1.7 GHz
GPU
Adreno 540
Mali-G71 MP20
RAM
2 x 32-bit LPDDR4X 1866MHz
LPDDR4X
Camera
16MP Dual, 32MP Single
28MP+16MP Dual, 28MP Single
Flash
eMMC 5.1 / UFS 2.1
eMMC 5.1 / UFS 2.1
Video Recording
4K @ 30FPS
4K @ 120FPS
Video Playback
4K UHD @ 60fps
4K UHD @ 120fps
Modem
LTE Cat. 16 4CA 1 Gbps down
LTE Cat. 13 2CA 150 Mbps up
LTE Cat. 16 5CA 1 Gbps down
LTE Cat. 13 2CA 150 Mbps up
Charging
Quick Charge 4.0, WiPower
Samsung Adaptive Fast Charge, Qi, PMA
Connectivity
In addition, the phones break a lot of important grounds when it comes to connectivity, and we aren't talking about the USB-C port, which is a first for the S-series. What we mean is that the phones are the first to land with LTE Cat. 16 and its theoretical 1Gbps download speeds. They will also be the first phones with the newest Bluetooth 5.0 standard you can get, for double the speed, and four times the range of the existing edition. Check out the video below, where T-Mobile demonstrates how the S8 can almost break the 1Gbps barrier on its LTE network.
Camera may sound all the same, which would be lame, but hold your horses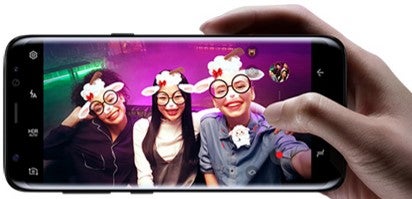 At first blush, the Galaxy S8 and S8+ still sport the same 12 MP camera with unique Dual
Pixel
autofocus system that their predecessor employed. Even if that were the case, it would still be an excellent shooter, as numerous camera comparisons of ours had already attested. Here, however, we have new tricks, new low-light algorithms, and a fresh 8 MP front cam with autofocus and the same wide f/1.7 aperture as the rear, promising Snapchat-worthy selfies (yep, there are a bunch of ear and sunglass stickers to try on, too). This leads us to the thought that there could be a brand new custom-made
Sony
or Samsung 12 MP sensors inside the S8 and S8+. Here are a few comparison shots between the S8 and other leading phones on the market we managed to take, for your viewing pleasure.
Battery life
Mixed bag when compared with the Galaxy S7 and S7 edge predecessors
The Galaxy S8 and S8+ exact battery capacities are now officially confirmed to be 3000 mAh for the smaller S8, and 3500 mAh for the S8+, which jibes with what we've heard before about the battery compartment of Samsung's fresh new flagships. The more frugal tech of the 2960 x 1440 pixels AMOLED display, and the new 10nm Exynos or Snapdragon chipsets have improved the official battery life numbers in comparison with the S7 and S7 edge, but only in certain categories like music playback. For video playback and Internet browsing, the numbers are pretty comparable, while the talk time endurance for the S8 and S8+ is slightly shorter than that of their predecessor.
Samsung
Galaxy S8
Samsung
Galaxy S7
Samsung
Galaxy S8+
Samsung

Galaxy S7 edge
Battery
capacity
3,000 mAh
3,000 mAh
3,500 mAh
3,600 mAh
Internet use
3G
11
11
13
12
Internet use
LTE
12
13
15
15
Internet use
Wi-Fi
14
15
15
16
Video
16
15
18
18
Audio
67
45
78
55
Talk time
20
22
24
27
Takeaway
Thus, barring any subpar performances with call and image quality or battery life that might emerge, the Galaxy S8 and S8+ have seemingly achieved their goal to be the best phones money can buy in the Android universe, and Samsung seems so proud of its creations, that it has slapped a truly flagship price on them, so it all balances out in the end, doesn't it?
Heck, on paper these highly-anticipated
April the giraffe babies
fresh puppies could erase most of the brand damage that Samsung incurred during the
Note 7
brouhaha, but we'll reserve our final verdict for the full review of the retail Galaxy S8 and S8+ that is soon to follow. What do you think?