Samsung introduces blazing-fast 256GB UFS 2.0 memory chip, can we say Galaxy Note 6?
55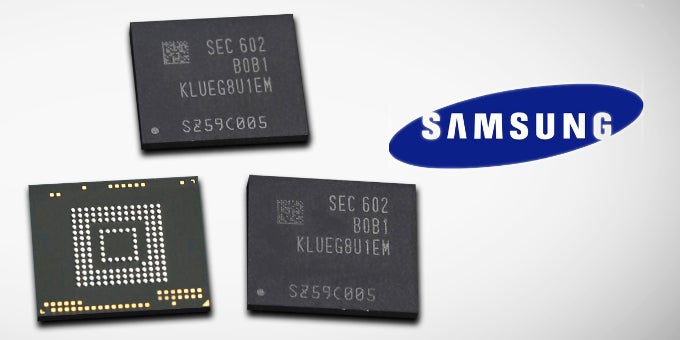 Craving to have as much native storage on your phone as possible? If yes, then your best bet at the moment is 128GB of built-in, native storage. Well, one of the leading manufacturers of flash memory—Samsung—just announced that it has started mass-producing 256GB UFS 2.0 memory chips that are aimed at and hopefully make their way to high-end smartphones in the near future.
The specifications of Sammy's newest memory chip are, to say the least, quite impressive! Touted as "paradigm shift", it can handle up to 45,000 and 40,000 input/output operations per second (IOPS) for random reading and writing, respectively. To put that into perspective, it's enough to mention that the previous UFS generation is only able to hit 19,000 and 14,000 IOPS for random reading and writing. That's fast!
What's even more jaw-dropping is that Samsung's 256GB chip can perform sequential reads at up to 850MB/s. Yes, that's 850 megabytes, and yes, that's 1 second. This insane data transfer speed is not only on par with most desktop SATA SSD drives, it's actually smoking all but the high-end ones out of the water. Sequential writing speeds of Sammy's new chip can go up as high as 260MB/s, which is not on par with desktop SATA SSDs, but substantially outperforms any microSD card you might have.
"By providing high-density UFS memory that is nearly twice as fast as a SATA SSD for PCs, we will contribute to a paradigm shift within the mobile data storage market,"
said Joo Sun Choi, Executive Vice President, Memory Sales and Marketing, Samsung Electronics.
"We are determined to push the competitive edge in premium storage line-ups – OEM NVMe SSDs, external SSDs, and UFS – by moving aggressively to enhance performance and capacity in all three markets."
Samsung says that the one of the main purposes of it's new 256GB UFS 2.0 memory chip will be 4K media consumption on high-end
"large-screen mobile devices"
. But what if you don't want to watch 4K movies on your phone? Fine, don't - Samsung says you can fit roughly 47 1080p ones on its new chip.
All sounds fine and dandy, but when will this new chip make its way to a device we can actually buy and use? Well, Samsung keeps mum on this, but we have an idea, which borders with wishful thinking. What's one of the high-end,
"large-screen mobile device"
that we are expecting to hit us by this year's end?
Here's a hint: it starts with
"Sam"
and ends with
"sung Galaxy Note 6"
. Hopefully, that is!
Recommended Stories