Galaxy S6 arrives with a blown up battery, customer reports
78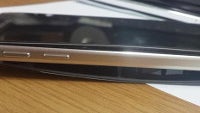 Ahhh, major product launches – almost always are these events going to be accompanied by
a bad lemon or two
. The bigger the launch, the more lemons surface and, seeing as the
Galaxy S6
has been quite popular and pre-orders have been skyrocketing – a number of problematic units have been delivered to users and, of course, pictured for the world to see.
First, we had the
weird display issues
with the
Galaxy S6 edge
, where some units would show funky colors and/or would have their frontal glass heavily scratched out of the box. Now, it seems that another problem, a bit more serious at that, may plague some Galaxy S6 owners.
According to a report coming out of Korea, a customer received his brand new Galaxy S6 only to find that something terrible had happened to the battery while it was in transit, causing it to inflate so much that the phone's diplay and back panel popped off. The user took two pictures, which you can see below, and they look rather troubling. It is unknown what may have caused this, however, seeing as smartphones are shipped with some amount of charge in them, the blame could possibly fall on faulty battery cells getting stressed and malfunctioning while the box was moved around during shipping. Samsung support was good enough to take the handset and immediately replace it with a pristine one, so that's a story with a good ending. Let's hope that this is an isolated case.
Recommended Stories