Galaxy S5 vs Xperia Z2 camera samples compare the great outdoors and the murky indoors
99+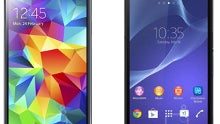 The
Xperia Z2
and
Galaxy S5
offer the highest resolution cameras in the Android world at the moment - the Z2 has a 20 MP sensor, and the Galaxy S5 comes with a 16 MP unit. The handsets utilize smallish 1.1 micron pixels for their sensors, and the one on the Z2 is slightly bigger - 1/2.3" - than the 1/2.6" sensor in the S5, in order to accommodate the higher resolution. The phones offer 2 MP front-facing cams, capable of 1080p video recording. Below are some quick direct comparison samples from both devices. At first blush, they look on par outdoors, but when the light dims down, the situation starts to change. We won't spoil the fun for you, so have patience with the high-res photos, as they will take some time to load.
The
Snapdragon 801
processors in the S5 and Z2 allows 4K video recording with fluid 30fps, as well as focus swap shenanigans for bokeh effect in the camera app. Both phones take advantage of those, just that Sony calls it Background defocus, while Samsung names it Selective Focus. The handsets have a tad different take on the image enhancements and effects that come with the two cameras, yet they both cover all the basics. Sony offers 120fps footage for slow motion video, and its Timeshift mode now applies for video, not only for stills, while you can add real-time effects during the footage capture.
Samsung offers something similar, with real-time HDR photography for both stills and video, plus it combines the typical Contrast autofocus with Phase Detection AF, allowing impressively fast 0.3s focusing times. The Galaxy S5 camera interface is a bit easier to use with its large, easy to press option buttons, while the one on the Xperia Z2 offers a perplexing array of modes, that are arranged in a somewhat ragtag way. Check out the comparison samples below, and tell us what you think.