Galaxy S5 to keep it compact with on-screen keys and fingerprint scanner
25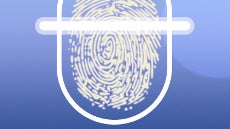 Most of the specs for the upcoming
Galaxy S5
have been tipped and
rehashed
over and over again, including yesterday, so we pretty much know what to expect from the silicon and screen, but what about design?
Samsung India insiders have tipped some fellow tech reporters that the S5 will feature on-screen buttons, as a radical departure from the typical Samsung physical keys on its flagships. Samsung was said to be seriously considering this same move last year with the
Galaxy S4
, but the more orthodox designer wing ultimately prevailed. Not this year, though, if this speculation is to be believed.
Samsung will apparently also be capitalizing on the improved
super-sensitive Synaptics touchscreen tech
it will plant in the S5 this year, and for a fingerprint sensor at that. That's right, those Samsung India sources are claiming that the
fingerprint scanner
coming to the Galaxy S5, will be integrated right into the panel, using the electromagnetic field, looking like some of those fingerprint prank apps you've seen in the Play Store.
On the other hand, Korean media is reporting today that Samsung will indeed include a swipe fingerprint scanner, but will produce its own one as a separate part, in order to secure enough yield. We aren't exactly sure how Samsung would pull the on-screen stuff, even with
Synaptics new tech that can recognize numerous hover points
over the display. It's nice to imagine it at least, though our money would be on a separate swipe sensor somewhere on the chassis itself.
The insiders also rehashed the specs for the Galaxy S5, and they seem to jibe with everything we've heard so far - 5.25" QHD (2,560×1,440) Super AMOLED display panel, a new Exynos chipset (India, International), and Snapdragon ( for US versions) processor, 3 GB of RAM, 32/64 GB storage, a 16 MP rear camera, and a large 3200 mAh battery.
This new Exynos, however, might still be a 32-bit endeavor, say analysts, and not the
64-bit one Samsung was working on
, as the company deduced a 64-bit processor is not needed at the current software state of affairs in Androidland. In any case, 32-bit or 64-bit won't matter for the average user as much as the design of the chassis, and the on-screen shenanigans listed above, so we can't wait for the announcement in three weeks, or the leaks beforehand.