New Synaptics tech to find its way in the Galaxy S5 and Note 4, improving Air Gestures and S Pen input
18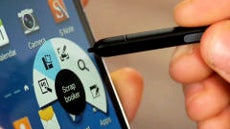 Analysts are raising their stock target price on
Synaptics
after reports that Samsung gave it orders for the sensitive screen technology on its upcoming
Galaxy S5
and
Note 4
flagships.
Synaptics tech is behind the screens on most Nokia Lumias,
allowing them to be operated with gloves on
, and is also providing the Air View and Air Gesture features on Samsung devices, letting you hover with a finger or a stylus above the panel, poking at stuff without even touching the display.
Those Air options are said to be vastly improved with the new generation of Synaptics tech that will find its way in the Galaxy S5 and Note 4. The enhancements come in the form of a greater detection range and more precise input, especially when it comes to the S Pen that will be on the Note 4.
The screen will now be able to detect tip points at the impressive 2.5pi, which would lead to more accurate handwriting and annotating on the eventual 2K display of the next Note. On top of that, Synaptics has allegedly managed to lower the cost of its technology, which, however, is good for Samsung, rather than the end retail price of the devices for us consumers.