Samsung Galaxy S5 to sport 'multi-hovering' tech claimed to be a gamechanger for air gestures input
23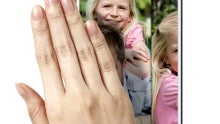 The
Galaxy S5
is expected to house the
new Synaptics technology
which will improve accuracy for the finger hovering aspect of screen input that brought along features like Air View and Air Gesture.
Synaptics' fresh tech can precisely detect movements from as little as 15mm to as far as 30mm above the display, but more precision is apparently not all that's in store for the touchless gestures that will arrive with the Galaxy S5. Korean media sources claim that "multi-hovering" will be the hero of the day when Samsung's flagship lands, and it will be able to recognize part of the palm as well as fingers.
Like with touchscreens, the airy input method can now detect more than one finger at a time, which has allowed Samsung to come up with some innovative uses, which the sources claim are gamechanging for the field of gesture input.
Air View and Air Gesture
appear to be in the "nice to have" department, as they don't see a particularly heavy usage on the Galaxy S4s and Note 3s of this world, but the "multi-hovering" might be different, we'll just have to wait and see.