Galaxy S5 scores amazing on our battery life test: the longest-lasting flagship has the endurance of a tablet
99+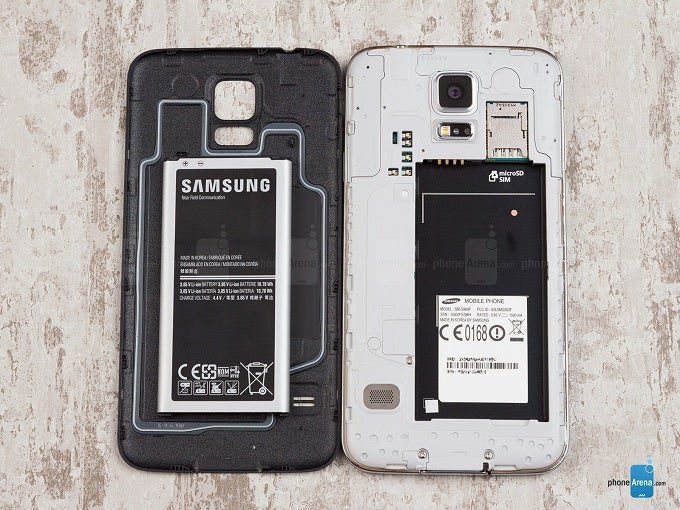 Are you sitting down? You'd better be, as we have a new king of our battery life test, and it is none other than Samsung's
Galaxy S5
. It managed the whopping 7 hours and 38 minutes of screen-on time in our grueling battery endurance run, which is the best result we've seen so far from any flagship. It actually stopped just a few minutes shy of the
Xperia C
, or it would have been the phone with the longest battery life we've ever tested. For comparison, it closes in on the most enduring device we've measured - the
Galaxy NotePRO
,
iPad Air
, and
iPad mini 2
, but those are tablets, with the respective gigantic battery capacities.
During the phone's unveiling event, Samsung promised up to 10 hours of Internet browsing, 12 hours of HD movie watching, or 21 hours of 3G talk time on a charge, and we can attest that the Galaxy S5 meets and exceeds those promises. Manufacturers, as well as most third party services, measure battery life with the screens set at about 150 nits of brightness, while our routine script is run at 200 nits, and features mixed browsing and media display patterns. Those include a lot of white background, too, which
AMOLED screens draw the most power to display
, and still the S5 managed to break the flagship record. How has Samsung done this, though?
The notable thing with the Galaxy S5 is that it breaks the flagship record with "only" a 2800 mAh battery, surpassing even phablets with their huge 3000+ mAh juicers. Thus, there must be more at play than capacity alone here, and Samsung might have utilized additional battery-saving techniques for the first time in the S5.
Remember
LucidLogix's battery-saving optimizations
that we wrote about not long ago? At the time we mentioned that Samsung has inked a deal for implementing the PowerXtend battery-saving algorithms in a yet-unknown device. Well, that mystery handset turns out to be none other than the Galaxy S5 flagship. The PowerXtend suite comprises of three proprietary algorithms, called WebXtend, NavXtend, and GameXtend. All of them rely on better hardware management and load-balancing that are supposed to extend the battery life on Android devices. GameXtend is the most interesting here, as it allows up to 50% better battery longevity, while NavXtend and WebXtend promise up to 25% savings. Despite that these are software algorithms, they have to be implemented at a system level by the manufacturer itself, which is precisely what Samsung has done with the S5. In that case,
Lucid's PowerXtend implementation might be the culprit
behind the jaw-dropping battery life stats that Samsung promises for the Galaxy S5, and which we can now confirm to be entirely true, as you can see in the graph below. We only hope that other Android phone makers will adopt the tech, too, as battery life is the thing users want to see improved in their smartphones the most.
Recommended Stories