Galaxy Note Edge vs Galaxy S6 edge - which curved screen do you like more?
18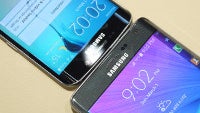 Well, after tons of speculation, the
Samsung Galaxy S6 edge
has been
announced
and yes – the double-sided curve is real. However, it doesn't look exactly like, nor does it function in ways fully similar to the
Galaxy Note Edge
– the first Samsung phone, which introduced the intricate curved screen, back in September, 2014.
So, let's recap on the differences – the Note Edge's curve is only on one side of the screen, to the right, and it runs deep into the phone's bezel, leaving room only for a thin thread of the phone's metal frame to go across from its top to its bottom. The curved display is home to various Edge panels, most of which act like active widgets – for the calendar, for recent news reports, weather, data usage meter, S Pen apps and input, Favorite apps panel, active apps multitasking panel, and others.
The Galaxy S6 edge is curved on both ends, but its arches are much shallower, leaving a thick enough frame on both sides of the phone for it to be comfortably held. That may be good and all, but the phone lacks the Edge panel functionality of the Note Edge. Now, this may be either due to the fact that the handset's arches are not as pronounced, or because Samsung decided to go a different route with the Edge ideology, but still, the S6 edge's curves are more about show than function. They can still house a night clock, they can display your favorite contact, and some Samsung apps will still have the controls moved around to better fit the Edge concept.
So, what do you prefer more? A deep, pronounced arch on one side of the screen, which tries to enhance experience with a variety of widgets and app shortcuts, or two shallow curves on both ends of the device, which have limited functionality, but look very classy?