G Flex 2 and Galaxy S6 leading the way for DDR4 RAM, 4 GB flagships to appear in H2
19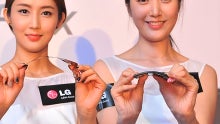 LG G Flex 2
may be the first phone with DDR4 RAM inside, but it won't be the only one, it seems, judging from a Samsung Semiconductor chief remarks. SK Hynix, which makes the 20nm 8 Gigabit LPDDR4 chip that is paired with Snapdragon 810 SoC in the G Flex 2, bragged about this crowning achievement, saying that DDR4 memory has double the throughput of DDR3, with smaller operating voltage and more power efficiency.
Good news come in spades, though, as Samsung recently stated that its flagship phones this year will all be equipped with the
fast and frugal DDR4
technology, likely starting with a 3 GB piece in the
Galaxy S6
in a few weeks. Not only that, but in the second half of this year we will even be seeing phones with 4 GB of DDR4 RAM pop up more often, according to IHS, and such a chip is expected to be in 36% of premium smartphones next year, outpacing the 3 GB units. Good times.