Futuremark welcomes back the Galaxy S4 and Note 3 in 3DMark's ranklist
31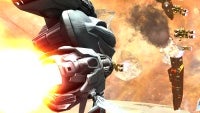 In the beginning of March, Samsungdecided to do the right thing and remove the code that made some ofits Galaxy devices cheat on benchmarks. This happened in the latestAndroid 4.4.2 update for the Galaxy S4 and Galaxy Note 3. Now thatSammy is competing fairly in the never-ending hardware arms race,Futuremark, maker of the cross-platform benchmark 3DMark, hasre-listed the Galaxy S4 and Note 3 in its ranklist.
Allegedly, Futuremark was the onlybenchmark producer that acted against the inflated scores which someAndroid devices were coming up with. When Samsung and HTC (whose HTCOne and HTC One Mini smartphones were caught cheating too) were de-listed, thecompany's president, Oliver Baltuch, explained its principles asfollows:
"People rely on Futuremark benchmarksto produce accurate and unbiased results. That's why we have clearrules for hardware manufacturers and software developers that specifyhow a platform can interact with our benchmark software. In simpleterms, a device must run our benchmarks without modification as ifthey were any other application."
Hopefully, device cheating atbenchmarks has ended for good.
via GSMArena