Samsung putting an end to benchmark cheating with the KitKat update for Galaxy S4 and Note 3
28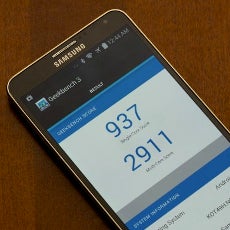 Benchmarkgate
seems to be winding down, as
Samsung's Android 4.4 KitKat update
apparently ends the CPU-boosting tricks previously employed. Before the update, for instance, the
Galaxy Note 3
entered into an overdrive mode each time a benchmark app was started. This regime fired up all processor cores at full speed, even before the test itself was run.
A brief research showed that a lot of manufacturers do it, but evidently the KitKat update brings an end to the Wild Wild West era of benchmarking, so prep yourself for more modest, yet more credible results. The problem was that CPU throttling, which idles the cores to their minimum frequency when there's no workload, immediately went on the backburner if Quadrant, AnTuTu, or other popular benchmarking apps were run. The cores revved up to their respective maximums, which in the case of the Note 3 reach 2.3 GHz, and stayed there until the benchmarking app was shut down. The same goes for the
Galaxy S4
, whose core clock maxes out at 1.9 GHz. Its average result on Geekbench went up from 1812 on Android 4.2.2, to 2114 on Android 4.3, and now down to 1913 on KitKat.
We can't really call this cheating, since everyone wants their product to be at its best when tested, and there is no actual overclocking from the official spec sheet maximums. Massaging the truth would be more appropriate here, since that's not how the chipset cores behave in everyday usage. In any case, the KitKat update seems to put an end to these shenanigans for Samsung, and, as we tested on our office
G Pro 2
, on LG's new crop, too. Whew!