Fujitsu Toshiba IS12T hands-on
10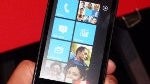 Even though it's hardly unlikely to ever see it make landing stateside, it didn't take us long to be attracted to the very bright and vivacious looking
Fujitsu Toshiba IS12T
– a Windows Phone 7.5 Mango device that's available in Japan. Don't let its
vibrant paint job
fool you mister, that's because it's covert in hiding the fact that it's one
seriously rugged smartphone
that can probably handle more abuse than your typical smartphone.
Right off the bat, we're reminded of the Nokia N9 and Lumia 800's design when peering over the brightly colored design of the Fujitsu Toshiba IS12T. Indeed, it's
very plasticy
by nature, but it's a tough feeling one to tell you truth. Actually, it's like that because it's the first Windows Phone 7.5 Mango device to be
water and dust-proof
!
Nearly all sides of the handset are completely flat looking, but when it's flipped over, we can distinctively see the prominent bulge surrounding its camera. At first, we're unsure why it's like that, but after finding out that it's packing a
13.2-megapixel auto-focus camera
with LED flash, we're now confident in knowing why it's there.
Sporting a 3.7" WVGA display, it's hardly going to capture our attention that much, especially when you look at the monstrous displays found on other smartphones. Moreover, its run-of-the-mill
1GHz single-core Qualcomm MSM8655 processor
isn't going to captivate anyone, but it's nevertheless more than sufficient to offer a
responsive
Mango experience.
Reminding us of the days when the Toshiba TG01 used to rule the scene for Windows Mobile, it would obviously be sweet if the IS12T could somehow arrive in our shores. Of course, we can keep on dreaming that, but it doesn't look like it'll be coming true any time soon, but still, it doesn't hurt anyone to think about it either way.