First Windows Phone Mango handset Fujitsu IS12T has an earthquake warning system built in
8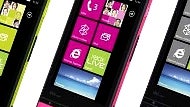 Remember that Microsoft Japan and
Toshiba-Fujitsu venture called IS12T
, with its 13.2MP camera, 32GB of internal memory, and thin waterproof design that accidentally happened to be the first Windows Phone Mango handset announced?
Turns out that the
Fujitsu IS12T
is not only protected from the elements, but actually protects you against the elements. Since the handset is aimed for the Japanese market, it has an earthquake early warning system built in, for obvious reasons.
It is part of the numerous value-added offers that the Japanese cell phone users receive, and unique for Toshiba and Fujitsu handsets - the service notifies you if there are possibilities for the land shaking under your feet in the current location, or asks you to search for a higher ground in the event of an upcoming tsunami.
The alert can then be saved as a text message, and forwarded to your friends or loved ones to warn them about nature's wrath.
via
WMPU