First Windows Phone Mango handset announced - the waterproof Toshiba-Fujitsu IS12T
9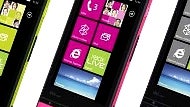 Microsoft Japan and a Toshiba-Fujitsu venture have partnered over the IS12T with a 13.2MP camera, 32GB of internal memory, and thin waterproof design for the first Windows Phone Mango handset to be announced, Japan-only unfortunately.
We first saw it at
Microsoft's WPC 2011 event
not long ago, where the presenter hinted that the phone has a "great camera" and, indeed the Toshiba-Fujitsu IS12T sports a
13.2MP shooter
with flash and various photographic options complementing the sensor.
Add this to the fact that the handset is
waterproof
as many Japanese smartphones are, plus the 32GB of internal memory, and we can only drool at what the folks in the land of the Rising Sun are getting. The other specs are more run-of-the-mill - Qualcomm MSM8655 processor, and a 3.7" display with 480x800 pixels, but the Toshiba-Fujitsu IS12T is quite thin at 0.42" (10.6mm) and light at just 4 ounces (113g).

The handset comes in yellow, pink and black, so its fans will span from the Hello Kitty types to the serious businessman who would appreciate the Microsoft Office and cloud services integration in this first WIndows Phone Mango handset.
Moreover, the presenters said that the phone will be available after September, and we posted that
Mango just went RTM
, so September seems right on schedule for the first major update of Microsoft's mobile OS. Have a look at a video of the whole launch event below.
via
WirelessWatchJapan
Video streaming by Ustream