Free BlackBerrys offered by Fandango for all four top U.S. carriers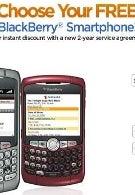 Movie ticket web site Fandango is sending out emails, offering up to 2 free BlackBerry smartphones for those using Verizon, AT&T, Sprint or T-Mobile. Conditions? You betcha! First, you need to sign a 2 year contract for each device, pay a $36 activation fee for each line, agree to a minimum $39.99 monthly service plan and a $200 ETF. By the way, if you think that you are getting a Storm, a Tour or a Bold, go back to dreamland. While each carrier is offering different models, they are all either Curves or Pearls.
Verizon customers can receive an 8330 Curve in silver or pink, or a Pearl Flip 8230 in silver. Are you on AT&T? Your choices are a Curve 8900 in silver, a Curve 8310 in platinum or red, and the Pearl 8110 in titanium or red. Sprint customers can pick from the Curve 8330 in titanium, red or inferno, and a Pearl 8130 in amethyst. Lastly, T-Mobile users can select from the Curve 8520 in black or frost blue, the Curve 8900 or 8320 in titanium, the Curve 8320 in sunset red, or the Pearl 8120 in frost. Authorized re-seller Simplexity is handling the offer, which expires at the end of November in 2010. If you are interested in the offer, check out the sourcelink.
source:
Fandango