Foxconn plant rumored to halt work on Apple iPhone 5c to concentrate on Apple iPhone 5s
13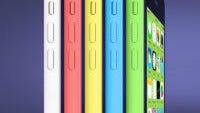 If you're looking for a sign that the
Apple iPhone 5c
isn't selling as briskly as the full-featured
Apple iPhone 5s
is, all you have to do is take a look at what Foxconn is rumored to be doing at one of its major facilities in Northern China. The factory, located in the city of Zhengzhou, has allegedly halted production of the Apple iPhone 5c in order to concentrate on production of the more popular Apple iPhone 5s.
Foxconn is not the main supplier of the plastic coated iPhone, and those in the know say that it is responsible for 30% of iPhone 5c production. The remaining 70% is believed to be manufactured by Pegatron Technology. The latter has purportedly cut back on its production of the model. Right after the new iPhones launched in September,
the higher-priced iPhone 5s got off to a nearly 3 to 1 advantage in sales
, when compared to the iPhone 5c. Since then, the ratio has tightened up a bit, but
the iPhone 5s still is greatly outselling the iPhone 5c
.
The Foxconn factory in Zhengzhou employs 120,000 and will now focus on producing the Apple iPhone 5s, which is the Cupertino based tech titan's flagship smartphone. Unlike the iPhone 5c, the full-featured model offers a more polished aluminum build, the Touch ID fingerprint scanner embedded in the home button, and is powered by a 64 bit A7 processor. Of course, the two models impact your wallet differently. The subsidized price for the iPhone 5s starts at $199 for the 16GB model, $299 for 32GB and $399 for 64GB. The iPhone 5c is being sold on contract for $99 and $199 for the 16GB and 32GB models respectively.
source:
AppleInsider