Localytics: iPhone 5s outselling the iPhone 5c by a significant margin
14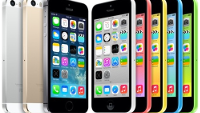 It wasn't too long ago, when we were still consumed by the rumors surrounding the new iPhones, and the lower cost iPhone 5c in particular, aka iPhone Lite at the time. Back then, most people agreed that it not only makes sense for Apple to chase the lower-cost segment, but there was also a feeling of a consensus that it actually will. The rest is history -- the iPhone 5c is out, and the opposition to the phone has been quite vocal. This is understandable, seeing as the 5c feels like a lower-cost rehash of the iPhone 5, which was conveniently pulled from the Apple store, leaving the more price-conscious among us without a much of a choice.
Now, depending on your views, the iPhone 5c can be both an improvement or a massive dud, compared with the iPhone 5 and its sleek design. According to Localytics, however, consumers have voted for the latter with their wallets, seeing as the iPhone 5s has outsold the iPhone 5c by a factor of 2.23:1. Total worldwide adoption of the iPhone 5s is now at 3.8%, whereas the iPhone 5c is at 1.7%, though Localytics' point out that the plastic iPhone is gaining momentum.
The iPhone 5 remains by far the most popular Apple phone, with nearly 40% of the entire pie, followed by the iPhone 4s with 32.9%. It's also interesting to note that Japan has the highest concentration of iPhone 5s and 5c users, accounting for nearly 10% of the total iPhone userbase in the Asian country. Back on the topic of the iPhone 5c, it's actually most popular in the States (not surprising, seeing as it has seen a few
price cuts
already), and least popular in Germany, where it's all about the iPhone 5s.

Localytics' numbers provide a rare opportunity to measure how reliable such analyses really are, seeing as Apple is about to announce its financial results for the last quarter later today.