Apple iPhone 5c closing gap on Apple iPhone 5s; Apple iPad 2 most popular active iOS slate
25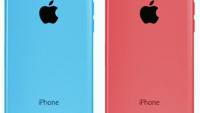 So what is it about the
Apple iPad 2
? Sporting a 9.7 inch screen with a forgettable 132ppi pixel density, this tablet is far from being Apple's most highly spec'd slab. Yet, with a 38% share of the iPad units currently active, there are more people using this particular tablet than there are using the
Apple iPad 4
(18%) and
Apple iPad mini
(17%) combined. One analysis by Localytics, looking for the reason for the continued demand of the iPad 2, suggests that the "
perceived differentiation of the latest-generation tablets is getting smaller with each new release
." That is leading iPad 2 owners to hold on to their well-worn iPad.
The
Apple iPad 5
is expected to be thinner, lighter and narrower than the predecessor model. Design cues taken from the Apple iPad mini mean a redesigned volume rocker, stereo speakers and a more svelte look. The iPad 5 might be more lightweight when you hold it, but there is nothing lightweight about the A7X processor inside, doing the heavy lifting. Why would someone keep an iPad 2 if they could afford to purchase an iPad 5? This could be the year that a number of kids get an iPad 2 gifted to them, as though it were a family heirloom, while Mom and Dad get to play with the new tablet.
Remember when the
Apple iPhone 5s
and
Apple iPhone 5c
both launched last month?
The opening weekend saw 9 million units sold
and the original tally showed the full-featured iPhone 5s
outselling its mid-range brother by a 3 to 1 margin
. Since then, the plastic coated iPhone has picked up some traction of its own and now trails the iPhone 5s by a more reasonable 2 to 1 margin globally. According to Localytics, at its peak the Apple iPhone 5s was selling 3.3 units world-wide for every iPhone 5c that was purchased. In the states, the ratio has dropped from 3 to 1 in favor of the iPhone 5s to 1.9 to 1. Ironically, some of that decline could be due to strong demand for the iPhone 5s. With that model hard to find in some areas, buyers are turning to the iPhone 5c as a replacement.
source:
Localytics
via
Appleinsider