Former RIM co-chair Lazaridis wants to lead a group interested in buying BlackBerry?
19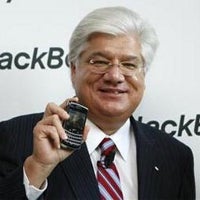 According to a published report on Saturday evening, former RIM founder and co-CEO-Mike Lazaridis has been speaking to private equity firms like Blackstone Group and Carlyle Group, to see if any of them would be interested in having him lead a group looking to buy BlackBerry. This is all very ironic because there are many who will tell you that Lazaridis and co-CEO Jim Balsillie were the duo that set RIM (later BlackBerry) on this current path of destruction.
For example,
consider this quote Lazaridis made in May 2008
. "
The most exciting mobile trend is full QWRTY keyboards. I'm sorry, it really is. I'm not making this up
." And once it became apparent to him that the Apple iPhone was beginning to take business away from BlackBerry, his response was to launch the
BlackBerry Storm
. The launch of the first all-touch 'Berry was a flop with software that was half-baked. The SurePress typing system was supposed to make typing on glass feel like you were typing on a physical keyboard. This too, was a giant fail.
Earlier this year, Lazaridis still owned 6% of the company's stock. That, and his knowledge of the inner workings at BlackBerry, could make him an important ally for any private equity group interested in the company. With the shares now less than $9 a share, there seems to be no end to the decline considering that the company just said that it will announce revenue of about $1.6 billion for Q2, less than half of what analysts expected. Additionally,
over $900 million of BlackBerry Z10 units were written down
in the quarter which will lead to an operating loss of nearly $1 billion for the period. 4500 employees will be getting laid off, 40% of BlackBerry's workforce.
BlackBerry has a current market value of $4.6 billion making it affordable for most private equity players. But given the current condition of the company, a buyer is not going to be interested in the consumer side of the company, something the company itself recognized last week when it said that it would focus on the enterprise part of the industry.
source:
WSJ