Forget where you've parked? Google Now to the rescue!
16
Remember that episode of Seinfeld when the gang couldn't find their car parked in a mall parking lot? That wouldn't have happened if Google Now had been around back then. Google has updated its search app to version 3.4 and there is now a Google Now card that will help you remember the address where you parked, along with a map to help you find your way back to your vehicle. Look at it as a way for the app to navigate you back to your parked car. The card automatically picks up the address where you parked, and if for some reason it provides you with an incorrect address, it offers other possible locations.
Other new features for the update include an easier way to navigate through past reminders. A centralized list of nicknames can now be found under Accounts and privacy, and the 'Help' and 'Send Feedback' setting is now listed as one item under 'Help & Send Feedback."
The update should be available now at the Google Play Store. Make sure you download it now, before your next shopping trip to the mall.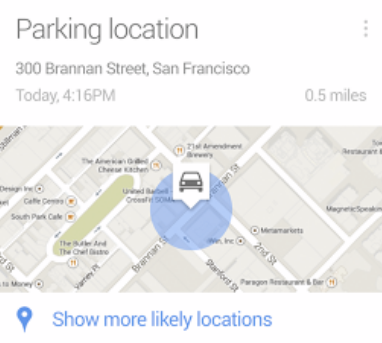 Google Now will help you remember where you parked your car
source:
GoogleSearch
via
9to5Google
via
Engadget