Fleshed out LG G5 peeks through these case makers' renders
22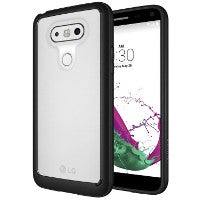 While some might have expected LG to steer clear from a major announcement at MWC 2016 in light of
Samsung's upcoming Galaxy S7 reveal
, the manufacturer seems confident enough to go for it. Now confirmed for an unveiling
on the 21st of February
, thanks to leaks, the LG G5 is starting to feel like less and less of a mystery—and we now add yet another one to the list.
Courtesy of case makers LK Ultra and Diztronic, and already available to buy/pre-order, the cases feature a rather fleshed out LG G5 peeking out of its protective armor. Most of what we see, we've already had good indication of, but it's the first time that we get a close look at the oft rumored dual camera setup at the back, which just so happens to be accompanied by a dual flash array. Underneath the duo, a cutout is visible—likely where LG engineers have decided to place the laser auto focus mechanism of might and magic.
Underneath all that, we see the now familiar circular cutout for what appears to be a touch type fingerprint scanner, which is also expected to double up as a power button. In what would be a mildly surprising move, these case renders again suggest that LG has decided to move the volume rocker to the side—a departure from the layout of its last three G-series flagships.
For what it's worth, the cases by the two makers actually differ in design layout, with one case featuring more openings on the sides than the other. It's also worth pointing out that neither of these appears to be designed in a way that would allow for easy ejection of the battery,
if such craziness is indeed what LG has in store for us
. Obviously, it's entirely possible that these are simply case makers trying to grab some attention for their products without having the actual technical drawings of the G5. If you're feeling optimistic, however, you might agree that it's also possible that they are only in possession of rudimentary blueprints of the device that would bar them from spoiling the surprise entirely.

Your call.