Alleged LG G5 render shows all-metal body, wacky mechanism to ensure removable battery
72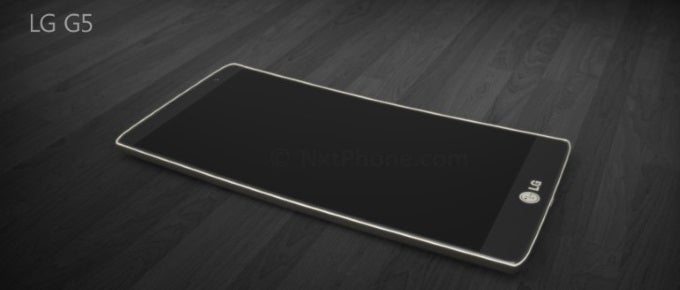 Alright, folks, now that MWC 2016 is fast approaching, we should certainly be bracing ourselves for a wave of upcoming leaks, rumors, and news about the top-tier smartphones that some of the biggest manufacturers are about to introduce. Some reports will be true, others false, and some will be downright crazy. The best thing about them is that we can't be a hundred percent sure which is what until the manufacturer actually unveils the handset in question, so there's intrigue, drama, and plenty of speculation to be had.
Sorry about the slight tangent in the beginning there, but we are preparing you for something that may seem a bit outlandish. An eyewitness leaked some information to CNet Korea, who even created a render based on the testimony, showing us what the
LG G5
's design will look like.
Allegedly, LG decided to go the all-metal route this time around. The device does away with the rounded back legacy of its predecessors, and the slightly curved profile of the
LG G4
. Instead, it's flat and thin, with rounded-off edges and soft corners. The volume buttons have been removed from the back and placed on the left frame instead. But there's a twist – its battery is still removable!
The report says that LG's engineers spent quite a lot of time on figuring out how to keep the battery user-replaceable, despite the new design. They worked on a mechanism, which allows the bottom bezel to be removed and the juicer to be taken out with ease. After some prototyping, the team ended up with a drawer-like design, reportedly to minimize water and dust ingress hazards.
If true, this design language choice would strike us as a bit of an off-beat decision by LG. The company spent years perfecting the tech for curved phones — most prominently seen on the
LG G Flex
and
G Flex 2
— which gave the G4 its distinct arch. The company also strayed away from metal and glass, which is currently the hip material combination to have on your flagship, and dared to experiment with a less-popular luxury material — namely, the genuine leather backs. Still, both the banana-shaped G Flex 2 and leather-clad G4
didn't really perform well
throughout 2015, which is probably why the company started to change directions in some of its decisions. This is evident in the
LG V10
phablet – a different design language, which may borrow cues from the older handsets, but looks all-new, with a few fresh new features and, dare we say, innovative choices.
So, assuming this render depicts the real thing, we wouldn't be surprised if LG tries to retain one of its flagships' signature features — a removable battery — while inventing some outlandish mechanism to do so. In fact, we find it kind of cool. But the overall redesign decision strikes us as a "If you can't outsell them – join them" decision, similar to
the one HTC took
when it built the
One A9
, and we are not sure how to feel about that.
Recommended Stories