Flash sale: Zenfone 2 with 4 GB RAM and 64 GB storage to be priced $337 for a day
11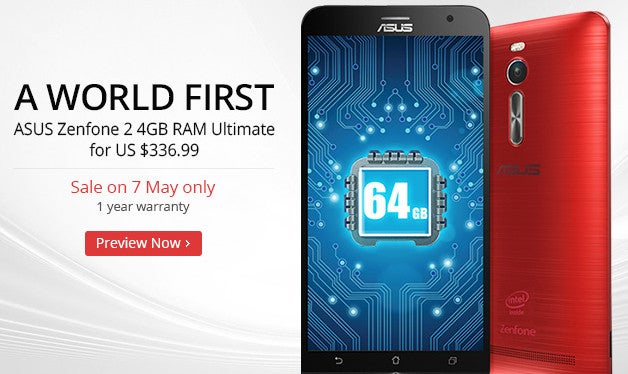 The
Asus Zenfone 2
was impressive enough for a $200 or so phone
when it was announced earlier this year
at the CES expo in Las Vegas, but when we learned that it will have a
version with 4 GB of RAM and 64 GB of internal storage memory
, it quickly became a handset to keep an eye on.
Well, now that the Zenfone 2, in all of its 5" and 5.5" screen reincarnations,
has been on sale for a while
, it's time to whip up the discounts, concluded Asus, and offered the flash sale you can see in the screenshot above. The 5.5" Zenfone 2, with model number ZE551ML, which is the decked-out version with 4 GB of RAM, will be on offer for one day only, May 7th. How much? Well, it will go for just $336.99 on AliExpress, instead of the retail $449.32 price.
That's a whopping $112 off, and might have something to do with
Lenovo announcing the K80
with a 4 GB RAM/64 GB storage option for $290, but with a much larger, 4000 mAh battery, and an optically-stabilized camera. In any case, that Lenovo K80 version is still not on sale, so if you want to score the first phone with 4 GB of RAM, it doesn't get much better than this $337 deal, with a free shipping to most countries worldwide.