Welcome the Asus Zenfone 2, a flagship phone with a 64-bit Intel Atom processor and up to 4GB of RAM
43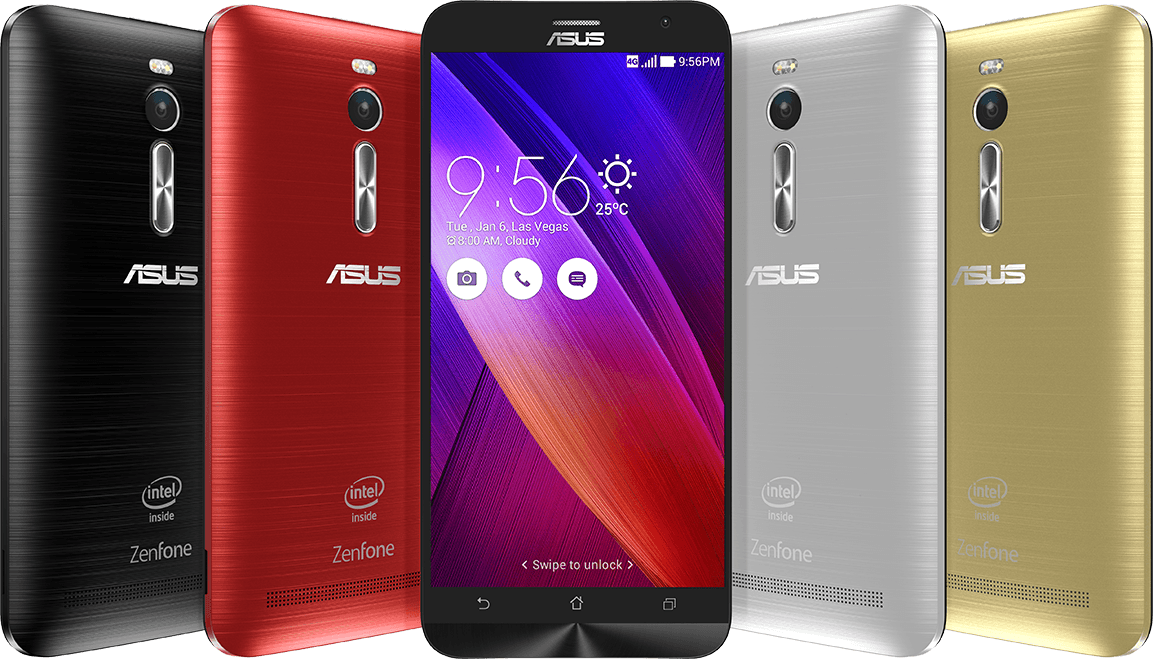 Earlier today, Asus took to the stage at CES 2015 to unveil a number of new gadgets, among which was one of the successors to the surprisingly popular Zenfones. Instead of releasing three differently priced models of varying sizes, however, Asus is focusing on a single Zenfone 2 that will come in two versions, the most notable difference between the two being that one of them will offer the whopping 4GB of RAM, while the other will stick with "just" 2 gigs.
But let's dial back. The Zenfone 2 is a Gorilla Glass 3-protected, 5.5-inch device with a flagship-standard resolution of 1080 x 1920 pixels, good for 403 pixels per inch and 400 nits of brightness. We are told by Asus that the phablet has a screen-to-body ratio of 72%, which falls in the middle as far as 2014 devices are concerned, and offers the passable dimensions of 6 x 3.03 x 0.43 in (152.5 x 77.2 x 10.9 mm). The dual SIM (dual active) Zenfone 2 has a rear-placed volume rocker and a shell with a brushed metal texture, so it could be said that Asus borrowed a few ideas from LG. Asus isn't being unoriginal, though, and promises a number of special "Transfusion" and "Illusion" models with rather unique shells – the former line combines two colors, while the latter offers some funky-looking patterns.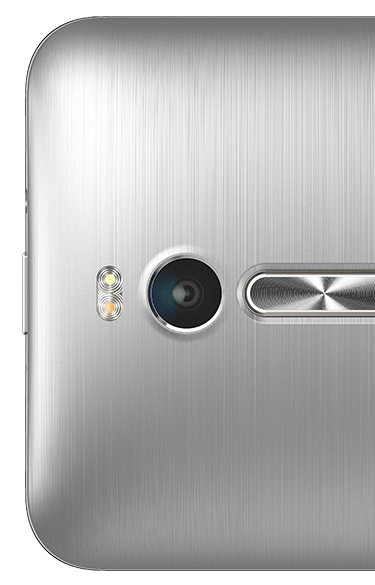 Moving on, the company is sticking with Intel once again, and has opted for an LTE-enabled, 64-bit Intel Atom Z3580 processor with four cores that can reach frequencies of up to 2.33GHz, and a PowerVR G6430 GPU with OpenGL 3.0 support. The camera at the back is a 13-megapixel unit with 5 element, f/2.0 aperture lens, complemented by a dual-color "Real Tone" LED flash. At the front, we're looking at a respectable, 5-megapixel selfie snapper with wide-angled (85-degree) lens and an option to shoot panoramas. Asus also made it clear over and over again that its PixelMaster software is available with both cams and offers goodies such as a low light shooting mode that can supposedly snap photos that are up to 400% brighter. As for the battery, you've got a 3,000 mAh Li-Po unit with support for fast charging tech that will allow you to recuperate as much as 60% of the total capacity in as little as 39 minutes.
On the software side, the Zenfone 2 is making use of Asus' proprietary ZenUI, slapped on top of the latest update to Android – 5.0 Lollipop. The company has worked a few new tricks into the OS, including actions and app shortcuts tied to gestures, special one-handed and "Kids" modes, and even support for custom themes and icon packs.
So when can you grab one and how much is Asus asking for all of that? What we know for sure is that the Zenfone 2 will become available as soon as March, though it's unclear which of the two model (or if both) the company is referring to. Also mystifying is the pricing – we were told $199, but we suspect that's how much the model with 2GB of RAM will cost, not the 4GB one, which we
imagine
will cost around $249.