Here are the first two television ads for the Apple iPhone 11 Pro
6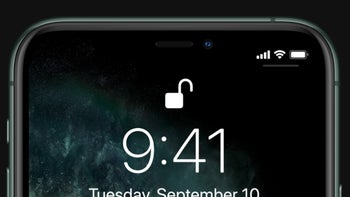 Pre-orders started today for the
Apple iPhone 11
,
iPhone 11 Pro
and
iPhone 11 Pro Max
. By now, you know that the cameras have been upgraded, the water resistance more than doubled on the Pro models, and the battery life greatly increased by up to five additional hours. And while it wasn't exactly glossed over by Apple at the new product event held last Tuesday, you might have missed the news that the iPhone Pro models are made to better withstand drops and falls.
That is the focus of a new 60-second ad that Apple released today called "Its tough out there" which takes place inside a wind tunnel. The display of the device shows storm clouds, a fine bit of foreshadowing as the phone is then pelted by various items starting with a large number of toys; this includes a Spider-Man figure that sticks to the back of the device-for a split second. Next comes a series of fruits and vegetables followed by a wedding cake that drops on the phone from above. Sprinklers are activated to clean up the mess and that is okay. After all, the
iPhone 11 Pro
can be submerged to a depth of 4 meters (or slightly more than 13 feet) for up to 30 minutes. Bottom line, the
iPhone 11
Pro can take a licking.
The second spot, a 30-second commercial, also takes place in a wind tunnel. The fan starts to activate, but this time nothing gets thrown at the iPhone 11 Pro. Instead, a dog comes out from a door opposite the handset. We are then introduced to the triple-camera system on the back of the device. There is a telephoto camera with a 2x optical zoom, the Wide camera (the primary snapper) and an Ultra-wide camera. After viewing a number of photos taken of the dog, the lights go off and Apple's new Night mode makes an appearance. This allows viewable photos to be taken under low-light conditions.
Check out the new ads below. You're sure to see them blanketed all over your television, especially during this weekend's NFL games.