First Samsung and LG mass produced flexible screens to ship in November
25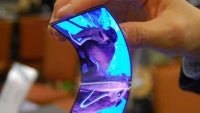 We have long been hearing about flexible screens, and the first mass produced ones are finally coming this November. Samsung and LG are both pushing the envelope and will start first production runs to have bendable screens in November, and consider expanding their capacity further on.
This means that we could have the first actual devices with such displays as early as November 2013. It's not all science fiction to reality just yet, though - the first flexible screens won't bend in multiple planes, but only in a single one. That's still a huge breakthrough and even more so given that this new type of screens is lighter, thinner and unbreakable. Being lighter and thinner are key features to enabling devices with even longer lasting batteries.
Right now, Samsung has a maximum capacity to produce around 1.5 million 5 to 6-inch flexible displays a month. That is at 100% yield, but the actual yields are lower, so the real number is likely around a million. LG Display has an even lower capacity.
Are you looking forward to devices with flexible displays? Analysts predict such devices will reach huge popularity in 2015, but until then they will slowly start getting traction.
"Key to flexible display is to find applications,"
HIS researcher Kang Min-soo said.
"As it has many advantages, demands will explode if there is a suitable market."