NY Times: Consultants to the Trump campaign accessed 50 million Facebook accounts illegally (UPDATE)
75
UPDATE:
Directly above, we have added a video posted by NBC News of Cambridge Analytica CEO Alexander Nix. Nix did not know he was being taped as reporters from NBC News' U.K. partner ITN Channel 4 News pose as potential clients who want to disrupt the Sri Lankan elections.


UPDATE:
According to a report in today's
New York Times
, a company called Cambridge Analytica illegally grabbed data from 50 million Facebook profiles without the permission of the account owners. This was allegedly done for the 2014 mid-term elections as Cambridge was the recipient of a $15 million investment from loaded Republican donor Robert Mercer. Cambridge also attracted the attention of Mercer's political advisor, Stephen Bannon, by promising to develop a method to identify personality traits of U.S. voters and guide them into voting GOP.
The Times article is based on information it obtained from documents and from former Cambridge employees and associates. The company was able to create one of the largest data leaks in Facebook history. This allowed Cambridge to hone its system in time for Republicans to use the data obtained illegally, to work on President Donald Trump's presidential campaign in 2016.
Cambridge still has control of this data, and Facebook has yet to state that the data was stolen from it. As it turns out, Cambridge says that it paid for the data from a researcher who claimed that he was collecting it for academic reasons. The researcher, a Russian-American by the name of Aleksandr Kogan, has been suspended from using Facebook along with Cambridge Analytica and the latter's co-founder, Christopher Wylie.
Cambridge CEO Alexander Nix denied obtaining and employing Facebook data during previous hearings. However, he changed his tune in a statement to the Times, although he put the blame on the researcher Kogan. He also said that the data was deleted two-years ago, contradicting others familiar with the story.
The data used by Cambridge Analytica came from an app built by the Russian-American Kogan, who was a psychology professor at Cambridge University. The professor was familiar with a similar app built by the University's Psychometrics Centre, which uses "Likes" put up by Facebook users to come up with personality traits of these social media users. The information was used by the Trump campaign to target the placement of things like digital ads and fund-raising requests. The data was also used to figure out where the campaign should spend $5 million in television ads, and where to send Trump for personal appearances.
Is there something shady about Cambridge Analtyical? Consider that CEO Nix was recorded by Channel 4 TV in Britain as saying that he has used front companies and ex-spies on behalf of political clients. But the political clients are getting harder to find. In fact, no American campaigns have appeared to sign up for the company's services for the 2018 mid-term election, and it is unknown whether the Trump 2020 re-election campaign will use them again.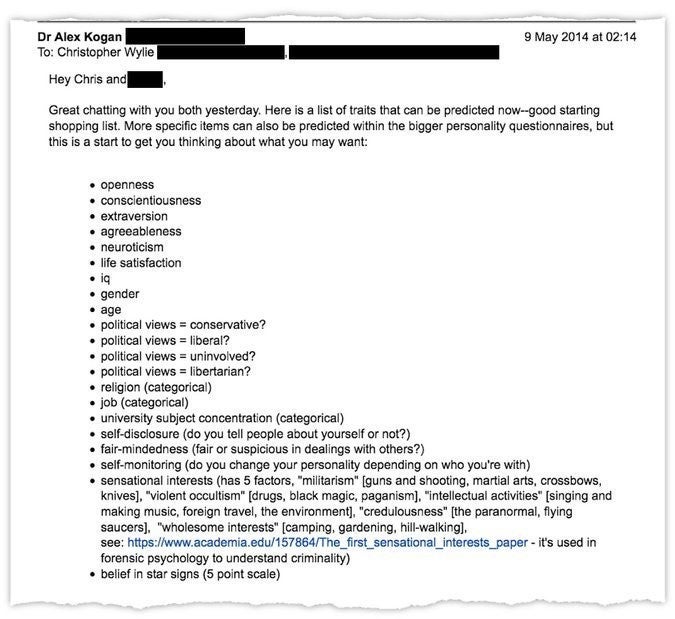 Email from Russian-American professor Aleksandr Kogan to Cambridge Analytica co-founder Christopher Wylie detailing the kinds of traits that can be predicted using data from Facebook and a questionnaire
source:
NYTimes
,
NBC