Facebook testing Google Now-style cards for its iOS app
13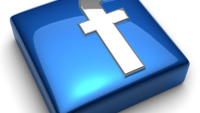 Facebook, on Wednesday, said that it is testing out the use of Google Now-style cards for its iOS app. The Facebook cards would provide information and would show up over the NewsFeed. Check-in to a restaurant, and past pictures you've taken with your friends at the eatery might show up. Check-in to see a specific movie at the local movie house, and it will lead to a card popping up with comments from your friends who have seen the film.
The cards do not offer real-time information like Google Now. For example, you won't see the latest scores from your favorite team pop up, or the traffic on your most widely traveled routes. Instead, the data on the cards will include information from status updates and individual posts between friends. The cards are just being tested at the moment, but if enough iOS users find them useful, Facebook will surely broaden the usage of the cards to other platforms including Android.
A spokesman for Facebook said that the cards help you discover where you are, or give you some fodder for conversation. As such, you can see the difference between the Google Now cards which actually provide useful information. One thing that Facebook did do right was to color code the cards. A card related to a birthday is colored blue. One with information pertaining to a location is red and photos are in a yellow themed box. This way, you can tell at a glance the kind of information that is being presented to you.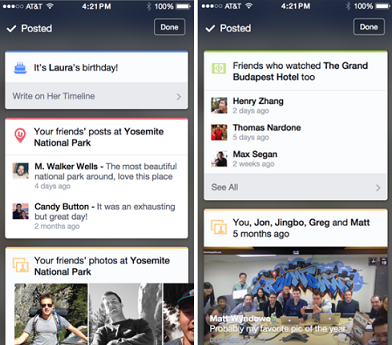 Color coded cards are being tested on the iOS version of Facebook
source:
TheVerge
via
GigaOm