Facebook phone made by HTC might not debut until mid-2013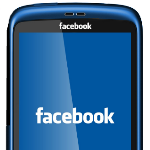 It has been a while since we last had any news about a potential "Facebook" phone or something. In fact, last time we had any word on the matter, albeit in the form of a rumor, was two months ago, when it was said that
former Apple employees are being courted by the social network
so that they would help with the development of the device.
Thanks to an anonymous source for
Bloomberg
, however, we are lead to believe that the project for a Facebook branded handset is still underway, even though the announcement of the rumored device seems to have been delayed. It is claimed that
the Facebook phone won't be out until the middle of 2013
.
Previous rumors regarding such a smartphone suggested that it
should debut in Q3 of this year.
What could have caused the delay? Well, it is said that Facebook has partnered up with HTC on developing the device, and that HTC needs to invest more of its resources into developing its own devices before coming up with the next-gen Facebook phone.
We said next-gen Facebook phone because we've had smartphones targeted at users of the world's most popular social network before. The
HTC ChaCha
and
HTC Salsa
, based on Google's Android mobile platform, were released last year with a dedicated Facebook button for quick access to social networking features. They weren't what one would call a smashing hit, however, although neither of them was too bad of a smartphone either. Will HTC's next attempt produce better results? Given the time it will be dedicated to developing a Facebook phone, chances are high of it being a hit rather than a miss, but then again, we will have to try it out first-hand before drawing an ultimate conclusion.
Neither Facebook nor HTC have confirmed the existence of a Facebook-branded mobile phone. It is presumed that if the device exists, it will run a heavily modified version of Android. However, it is rumored that
Microsoft really wants to take part in the action as well
, meaning that the device might be based on Windows Phone 8, although the possibility of that happening seems less likely right now.