Insider says HTC Facebook phones to launch in Q3
11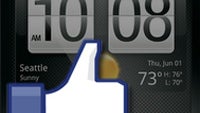 It has been a while since HTC and Google teamed up to launch the Nexus One. Since then, Samsung has taken over the position of Google's primary production partner and moved into the top spot, pushing HTC out of the way. As it looks to jockey for position back into the spotlight, insiders say HTC is turning toward the powerhouse known as Facebook to create its next blockbuster handset.
Opposed to HTC's previous Facebook branded devices, the ChaCha and Salsa, this upcoming smartphone is said to have "a platform exclusive to Facebook to enable and integrate all functions available on the social networking site." The insider also notes that as Facebook looks to expand revenue streams after it goes public, one of its strategies will be to launch its own-brand of smartphone.
As far as when we would actually see this purported device come to market, the source predicts that the earliest this HTC, Facebook marriage would come to fruition is Q3 2012.