Microsoft wants to help make the Facebook phone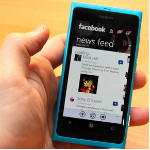 Microsoft has a warning for Facebook. The Redmond company doesn't think it's a good idea for Facebook to follow the path of Android forks like Amazon and Barnes & Noble in an effort to build the fabled Facebook phone. Not surprisingly, Microsoft thinks Windows Phone should power the Facebook phone.
Neither side has commented on the rumor, but it seems likely that Microsoft has at least contacted Facebook about a potential partnership. The rumor has it that Microsoft would help build the platform, which would likely only carry a "powered by Windows Phone" tag, but would be branded as Facebook. This plan would certainly mean less work for Facebook in building the platform, but it would also likely limit the customization available.
The big argument from Microsoft seems to be that Facebook wouldn't be supporting a direct competitor in Google. This makes sense, and Facebook and Microsoft already have a pretty close relationship. And, Facebook is already fairly deeply integrated into Windows Phone. The other arguments from Microsoft are that it has the relationships and know-how to do it. Microsoft has already built a mobile platform and has the relationships with hardware vendors and carriers to help Facebook succeed.
We know that you guys aren't exactly the target demographic for a Facebook phone, but if you were forced to buy one for a younger relative would you prefer it to be a forked Android or a branded Windows Phone? For the Marketplace alone, we might side with Windows Phone, unless Facebook would be using the Amazon Appstore.