Facebook Mentions is a new iOS app for celebrities
4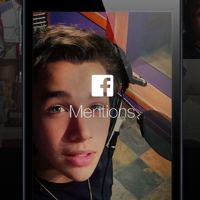 If you are not a famous celebrity, you might as well give up on subscribing to
Facebook Mentions
, an app made specifically for a "verified public figure." The app allows you to look through Facebook to find mentions of your name. That is why the app was named Facebook Mentions, get it? If you have to ask whether or not you're famous enough to make this app worthwhile for you to install, the chances are that you're not.
Facebook Mentions
not only helps celebrities see what fans are saying about them, it also allow the famous to tell their story, host Q&A's from their phone, and get involved in popular conversations that are trending. Using the app might be a good way for the rich and famous to stay connected to their fans.
Facebook Mentions is a free app for iOS only, and even if you are just a regular Joe, you can download the app on your phone. You won't be able to do much with it, but you can feed your delusions by pretending.
source: FacebookMentions (
iOS
) via
RedmondPie